It was beautifully sunny in London last week/over the weekend, but today it has been raining a LOT (although that's not really breaking news). Nevertheless, this kind of weather calls for a lovely warm bowl of soup or stew – the kind that makes you feel warm and cosy, but still packs a punch when it comes to flavour. Fearne Cotton's cookbook Cook. Eat. Love. has a ton of vegan options and just the right kind of recipe that will make days like today a little less grey and miserable.
Before going into the actual recipe, I wanted to mention that the former BBC Radio 1 presenter isn't actually a vegan herself, but a vegetarian. Fearne spoke openly with The Independent about how she enjoys making vegan meals and pastries from scratch, but always being on the go is one of the main reasons why she says she can't fully commit to the vegan lifestyle. Her kids eat meat but Fearne doesn't touch the stuff. The release of her cookbook is great especially for the cause of veganism as more creative recipes are being made available to the public by influential people such as herself… Although I would love to see her fully commit and become vegan sometime soon!
Fearne Cotton's Vegan Stew:
Check out the recipe below, as it appears in her recent cookbook
INGREDIENTS:
2 tbsp olive oil
1 carrot, peeled and diced
1 onion, diced
1 clove garlic, crushed
1 tsp ground cinnamon
1/2 tsp ground ginger
1/2 tsp ground turmeric
300 g passata
1 large sweet potato, diced (no need to peel)
425 g tin kidney beans
50 g quinoa
1L vegetable stock
100 g kale, rinsed and dried, tough stems removed, and roughly chopped
Sea salt and freshly ground pepper
Sourdough or spelt bread, to serve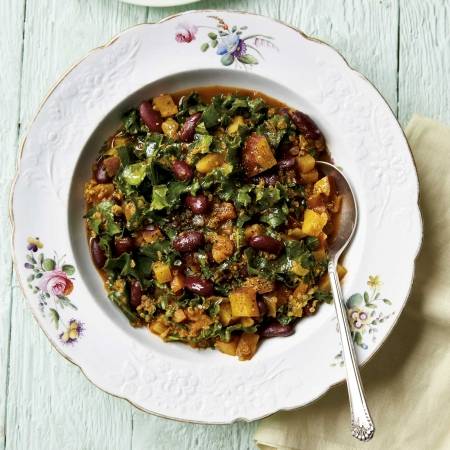 (Image: Red Online)
HOW TO MAKE IT: 
1. Start by dicing the onion, carrots, potatoes, and chopping the kale after destemming them.
2. Add the carrots and onion and saute them over medium heat.
Afterwards, add the garlic, cinnamon, ginger, turmeric, and a large pinch of salt and pepper. It only takes a minute or two until they become fragrant. Then, add the passata and let it simmer for five minutes.
3. Once that gets going, add the sweet potato, kidney beans, quinoa, and stock. Bring the concoction to a boil, then reduce the heat and simmer gently for 20 minutes until the sweet potato and quinoa are almost cooked.
4. Lastly, add the kale and cook for five more minutes. Don't forget to season and taste as you cook!
5. Serve with a large chunk of sourdough or spelt bread.
Seems pretty easy, right? The recipe is not only delicious and comforting, it is also very healthy which I've got a lot of time for – filling and healthy is the perfect combo. This stew is loaded with medicinal properties especially if you don't forget to add the spices. A Healthline report notes that turmeric's main component, curcumin, has anti-inflammatory properties and is a strong antioxidant. Cinnamon, which enhances the spice, also has those effects and is even proven to lower blood sugar levels. Last but not least, Medical News Today highlights ginger's ability to offer cold and flu relief, which is also the reason why ginger tea is soothing when you're feeling a bit under the weather (not that I'm a huge fan of the flavour!).
Another great thing about this recipe is that it goes well with homemade warm apple cider that I previously posted about, so if you're needing a cosy night in whilst this weather sorts itself out, I've got you covered!

While Fearne Cotton isn't a fully fledged vegan just yet, she's mentioned on occasion how it would be an amazing thing to do for the planet. It's also no secret that the TV host is a huge animal-lover and Fearne Cotton even posted on Instagram how she would never wear real fur. She knows that the biggest reasons for veganism are health, sustainability, and animal rights, and whilst there's no guarantee that she will take the plunge anytime soon, the vegan community's rooting for her and I hope that join us and help influence others to follow as well.
Let me know in the comments below how your version of Fearne Cotton's 'hearty vegan stew' turned out!