If you'd have told me earlier this year that I would be gushing about how wonderful Albania is, straight up, I would not have believed you. Yet, here I am doing just that… And there was one particularly amazing experience: jumping into Albania's Blue Eye.
Albania hadn't ever appealed to me as a country to visit, but after my separated parents (English mum and Bulgarian dad) decided it was time for a family holiday with the three of us all together and that we would be going to Albania (via Corfu) – that was that, and the trip was booked!
We were in Albania for 3 full days, with a half day in Corfu either side (did you know Corfu is only an hour or so ferry ride to Albania? I didn't – more on that another time). We got up to a whole lot during our time there, which I'll write more about soon, but for now, I have to tell you about our absolutely magical visit to the Blue Eye in Albania.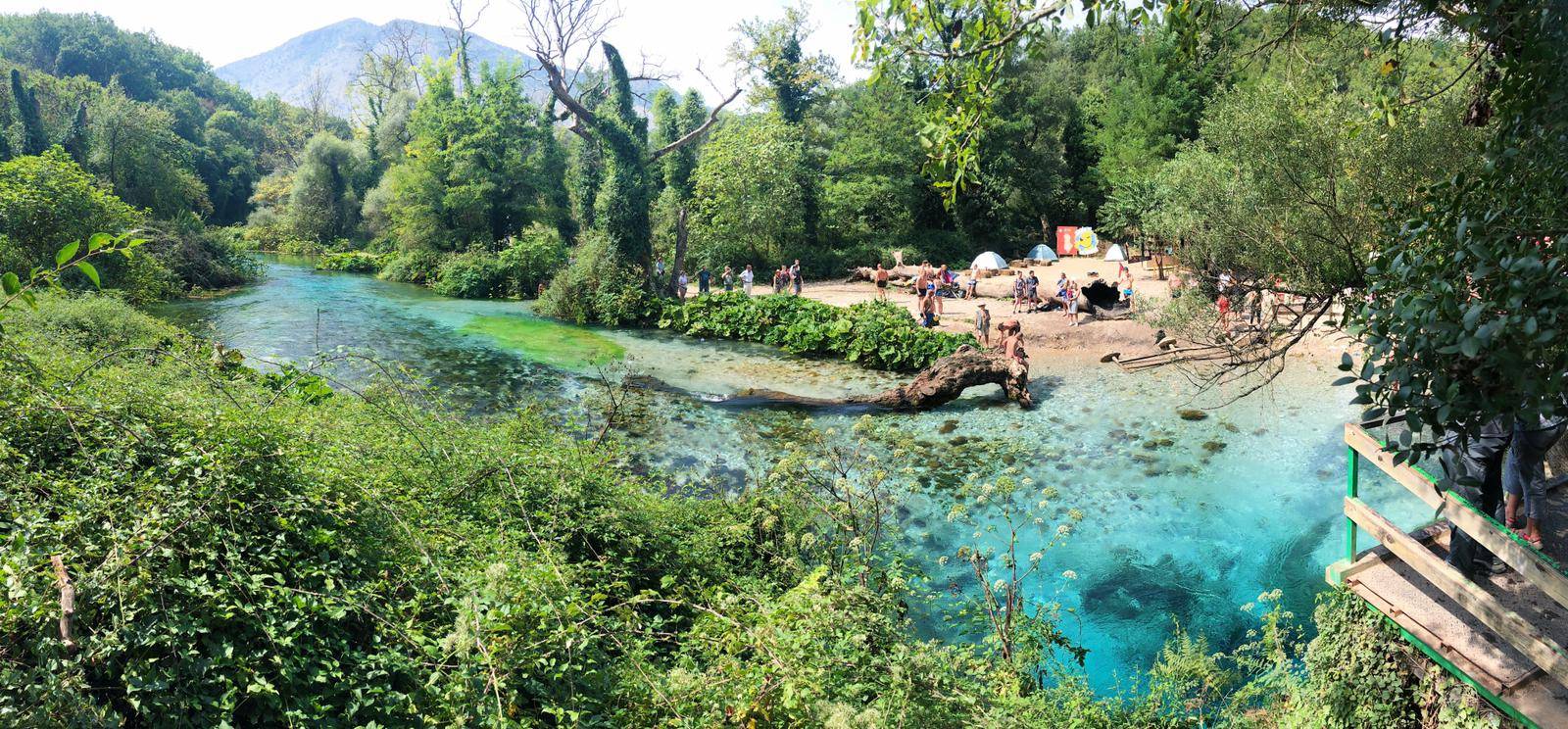 About the Blue Eye
The Blue Eye (Syri i Kaltër in Albanian) is a beautiful natural water spring in Southern Albania, and is the primary source of water for the Bistricë river which is 25 km long, which ends in the Ionian Sea. The natural spring occurs near Muzinë in Vlorë County – about an hour inland from the tourist beach town of Sarandë.
It's named the Blue Eye due to the gorgeous blue colour of the water, and the oval shape of the spring. I've scoured the internet and it turns out no one is actually sure how deep in the earth the spring comes from. The pressure of the rather cold 10 degree water is so strong that neither divers nor other equipment have been able to pass 50 meters, so for dramatic effect, let's call it "bottomless", with a diameter of 2-3 metres. Pretty cool, but also kinda scary… It makes me think of those awesome, but trashy American TV shows like 'Invasion' and 'Surface' where monsters/creatures/aliens come out of the water. Anywho, despite my over active imagination, when we got to the spring and I saw a group of men jumping in, I knew I had to as well.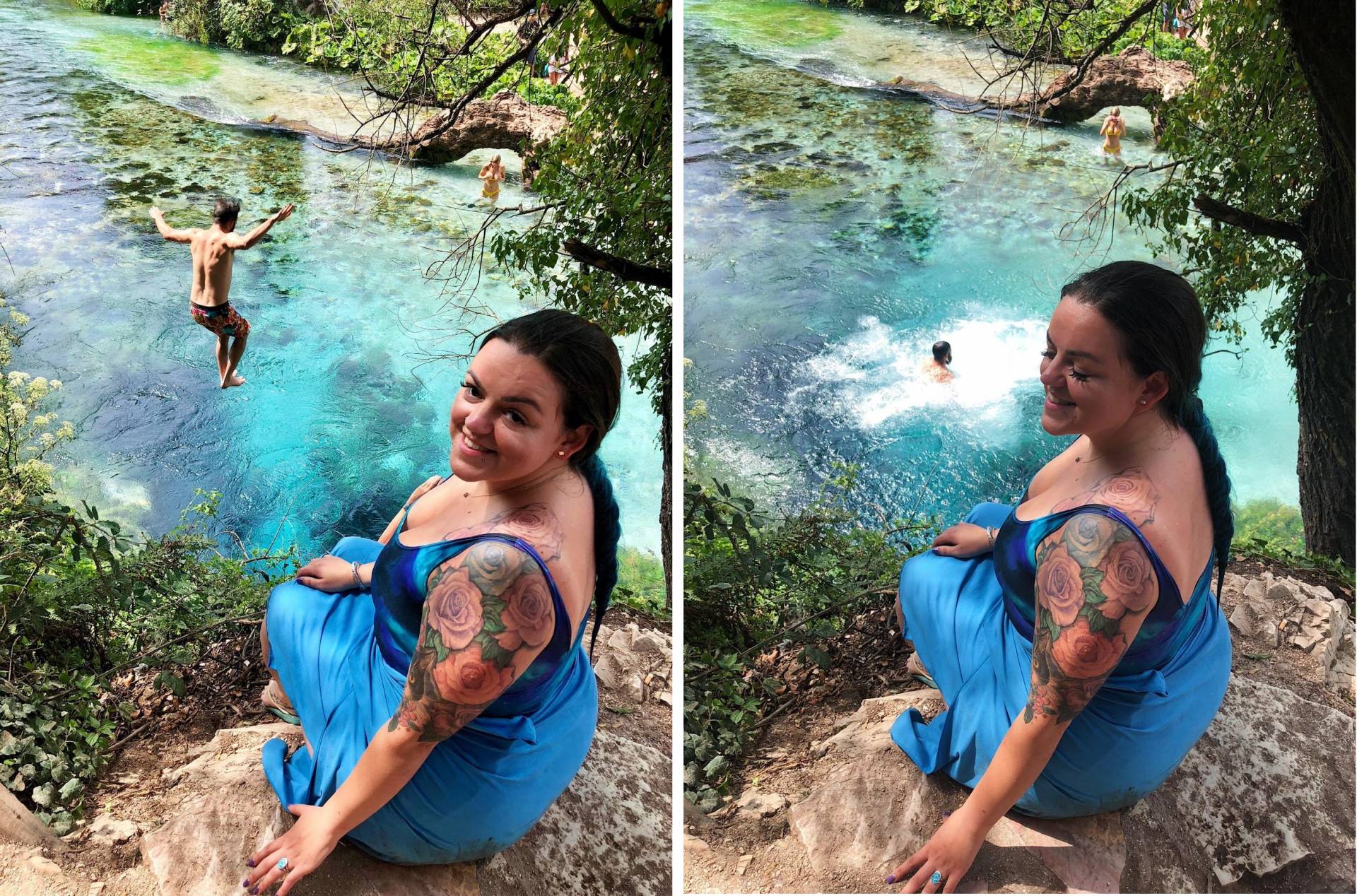 Jumping into the Blue eye
The viewing platform when you're above the spring is rickety and old, and to jump you have to climb over some railings… In hindsight probably not the safest, but I'm a sucker for adventure, and a complete adrenaline junkie, so couldn't pass up the opportunity! Especially as the only people jumping that I saw were mostly toned, muscular men, some of which were a bit nervous, and had to be coaxed into jumping by their friends – not that I wanted to show them up or anything, but I do love a challenge!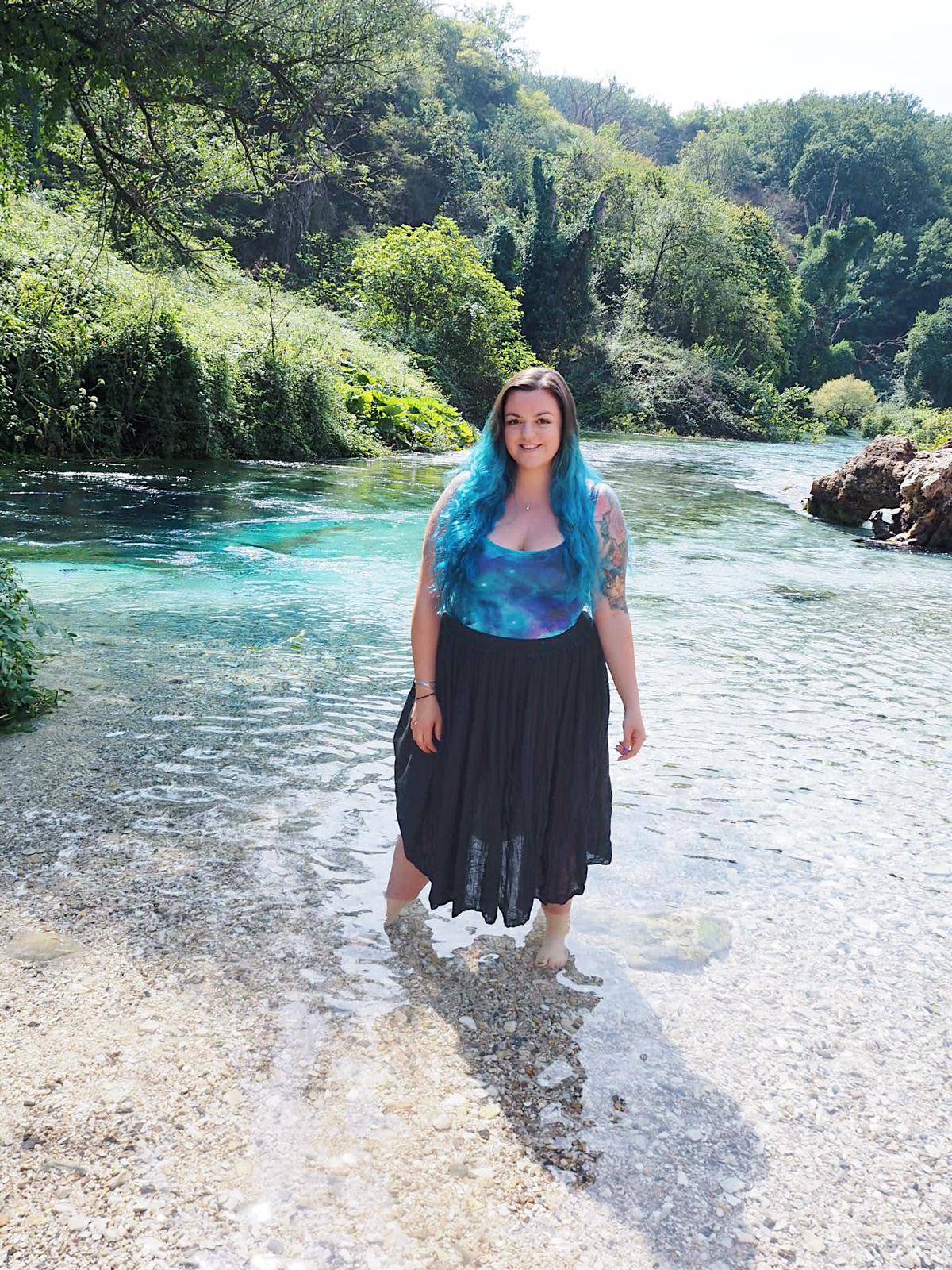 I paddled a little in the crystal clear VERY COLD water on the "shore" like area, to get a feel of what I was letting myself in for, before walking up to the platform. Although we got there in the morning, the sun was already high in the sky and it was 31 degrees outside of the water, so when you're dipping your toes into 10 degree water – it's certainly a shock!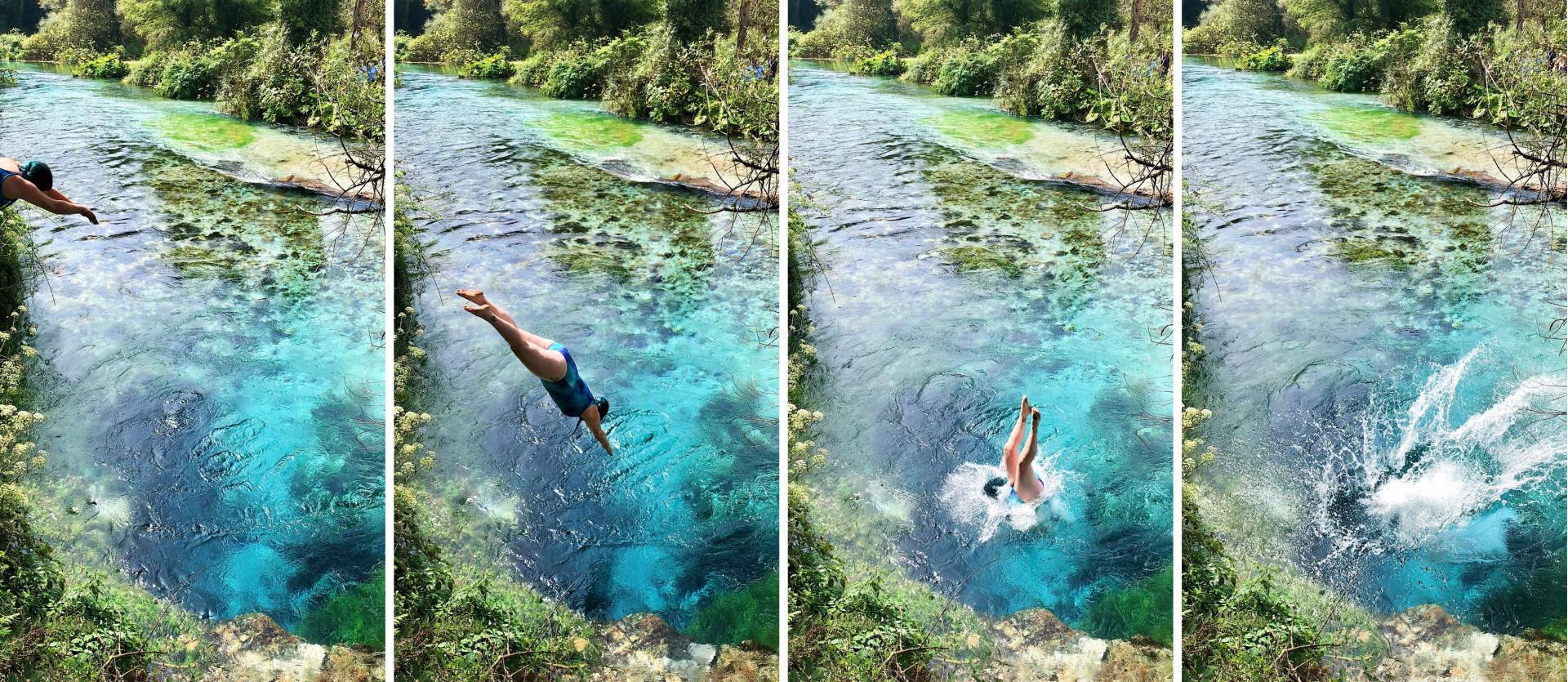 I'm confident socially but when my body is more clearly "on display" I do feel all kinds of self conscious (eg. in a swimsuit) but there was something liberating about feeling all eyes on me from the many tourists that appeared during our few hours there, watching to see if I would *actually* jump in… little did many know that this particular time (when my mum NAILED the photos above!), it was the third time chubby ol' me, with my blue hair, in my blue galaxy swimsuit, had jumped from the high view point into the water.
Even my dad, who would always encourage and push me to do things out of my comfort zone (like jumping into/off of, things) when I was younger, was surprised, even said he was impressed I dove in head first, always nice to shock your parents, huh? Check out a video of my dive in action on my instagram (swipe left to watch).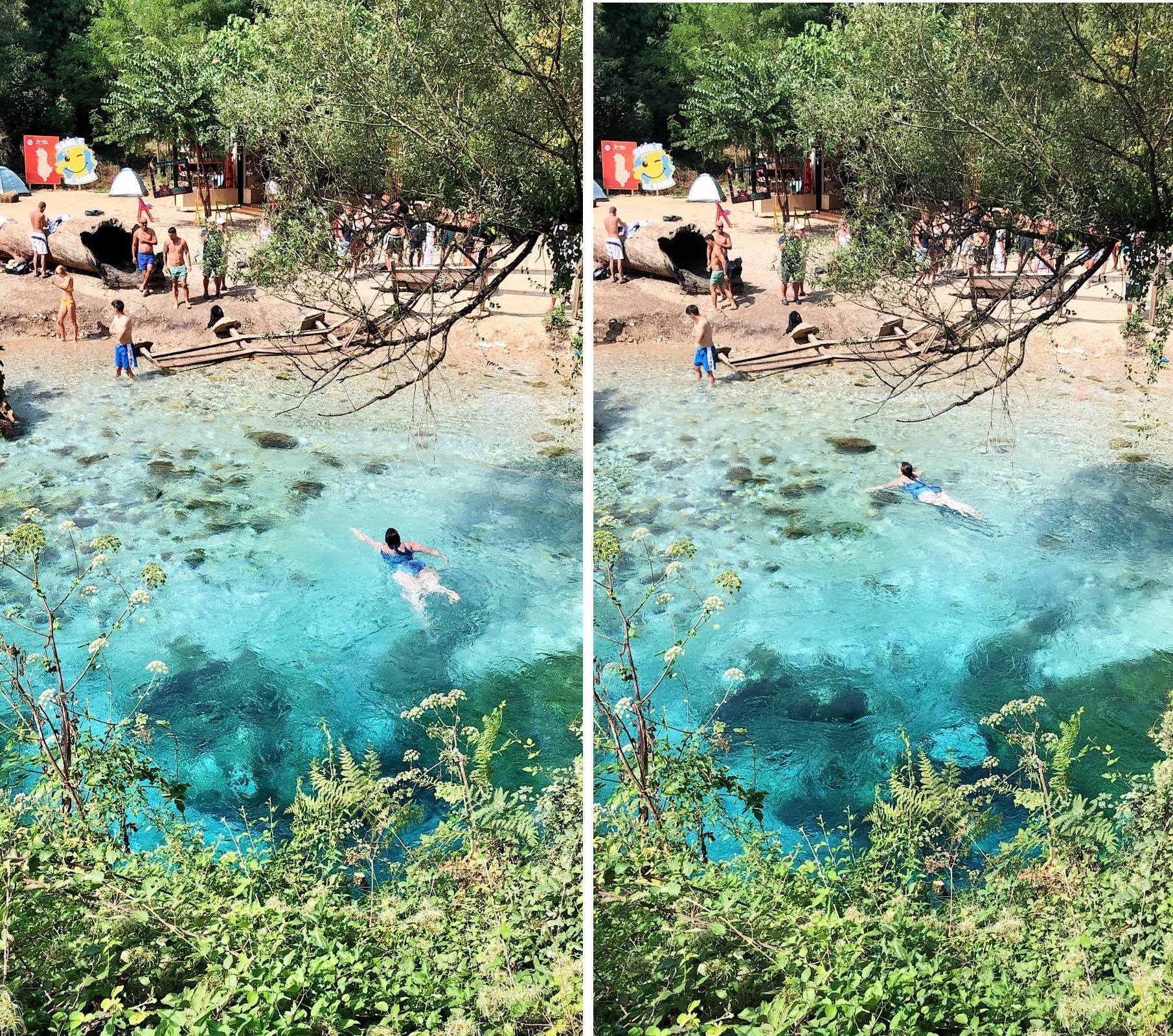 Almost as soon as you hit the freezing cold water, despite the gravity of the jump pulling you down, the pressure of the water pushes you straight back up. It's a shock to the system for sure. If you aren't prepared for the temperature or the force, it really does take your breath away (and it doesn't get any less of a shock the more times you do it)! I'm a confident swimmer however, but after almost floating downstream the first time, I stayed as focused as possible so as not to get disorientated once I hit the water. After surfacing I swam towards my right hand side, instead of straight forward, or left. Because the water pressure is so strong if you let yourself float, you can end up floating down the river. I saw this happen to some others – not to worry though, there are other exits to get out of the water.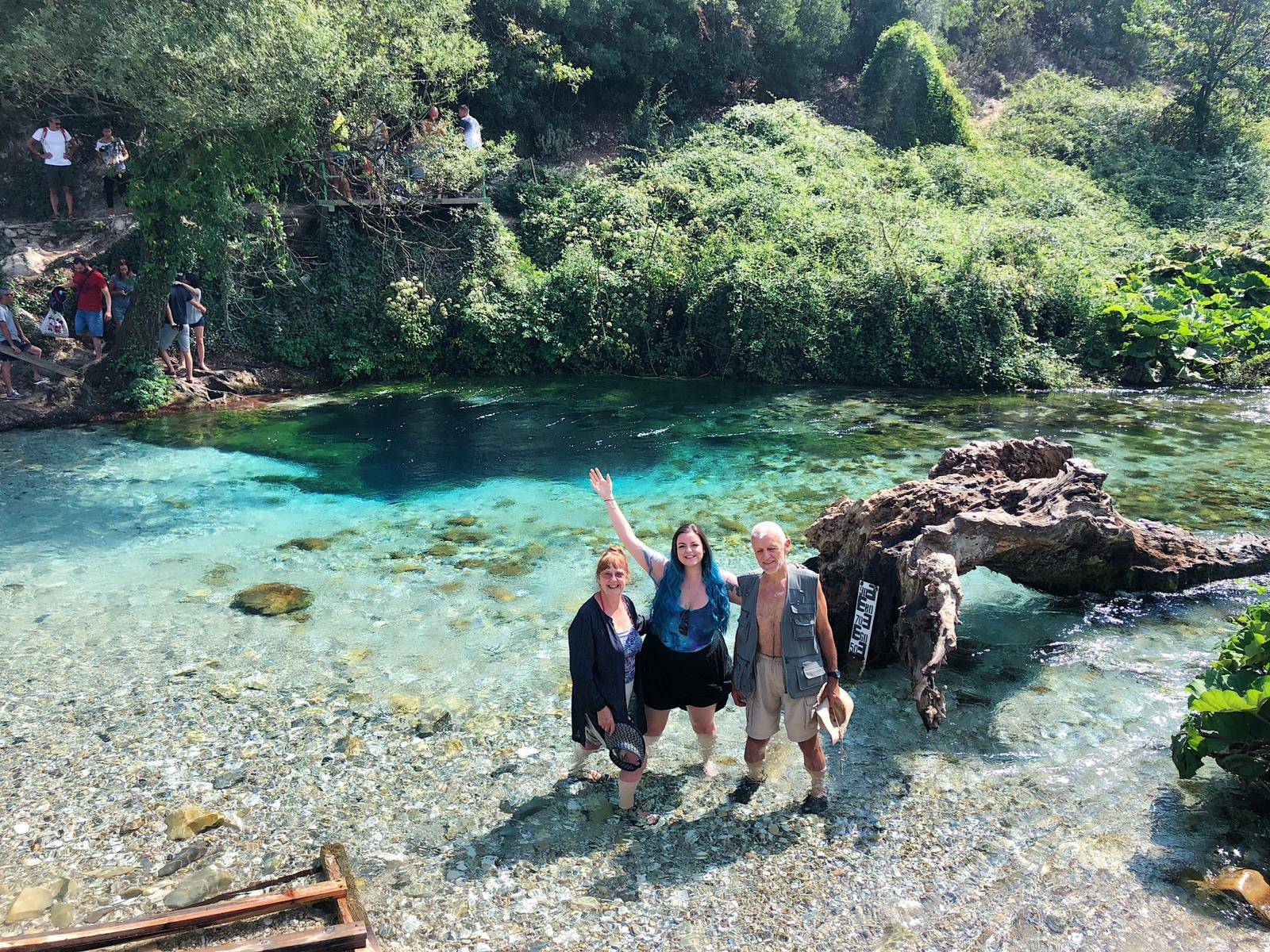 Logistics of getting to the Blue Eye
Travel: As far as I understand, there's not much in terms of public transport to get there – we had a car to get around. I did notice some travel agents doing excursions to visit the Blue Eye.
Opening Hours: I'm not sure of this and can't find official information online, but  I would recommend getting there first thing in the morning, because it certainly got a lot busier during the few hours we were there. We arrived 9.30am and left around 12pm.
Entry Fee: I'm not totally sure of this (and can't seem to find up to date official details online), however it was not more than 200 lek per person (£1.40, €1.60, $1.82).
Food & Drink: There is a restaurant there on the water (as well as the usual tourist stalls selling bits and bobs), but after sitting down on the decking where only 2 other tables were filled and asking for a menu and not getting one 20 minutes later, we decided to venture elsewhere.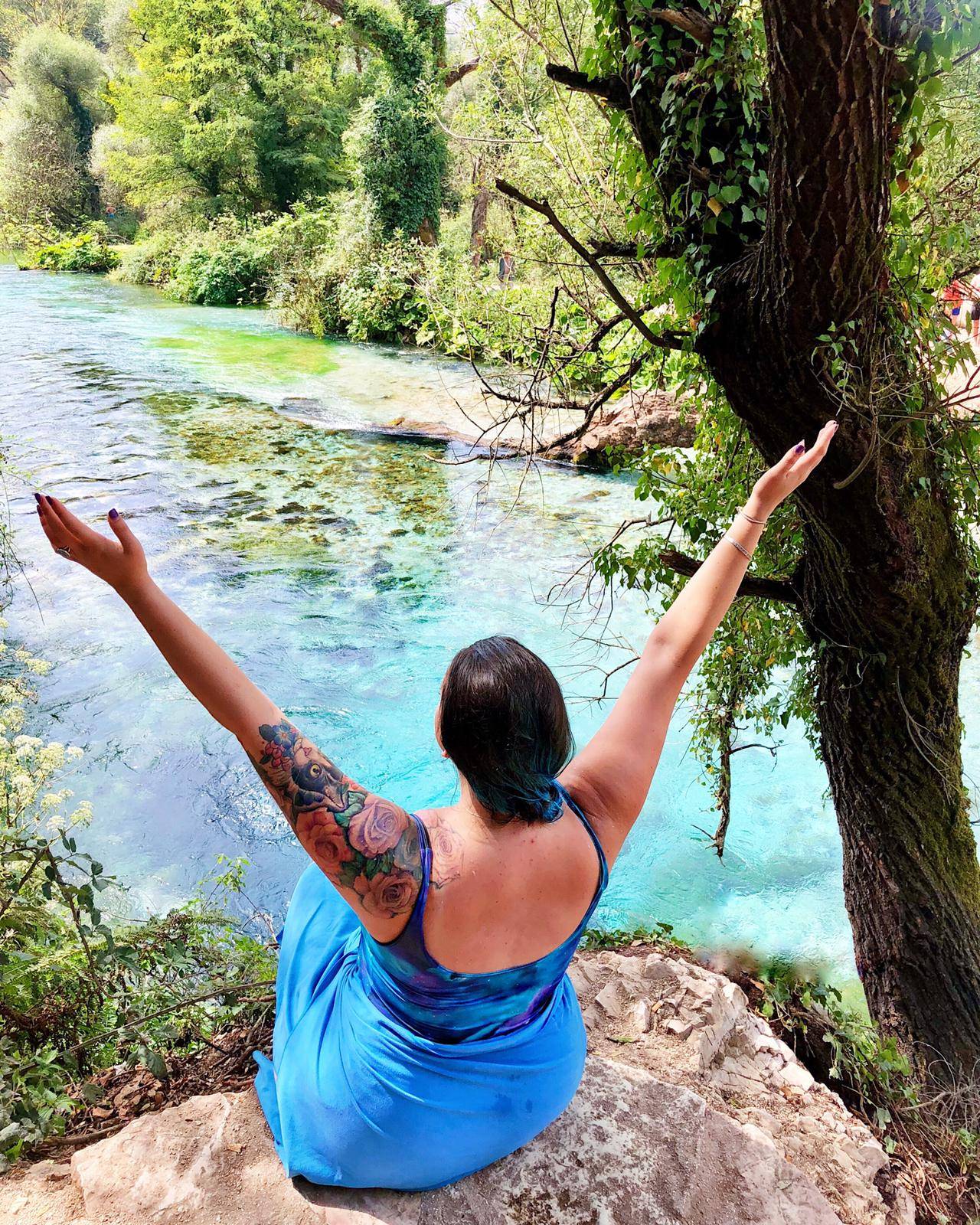 I've definitely found a new happy place, and I hope that I'll be able to go there again sometime… But if not, it's certainly something I will remember forever and was certainly a highlight amongst a few amazing holidays I went on this year. Albania is such a unique, natural place of beauty. I do feel lucky to have got the chance to visit. If you're planning a trip to Albania, this gorgeous place has gotta be at the top of your list!
Will you be adding Albania to your travel wishlist?
Lx