This months TheVeganKind #TVK43 Subscription Box had a lovely selection of treats. Some I had tried before, and some I hadn't ever heard of before, let alone tried! I always love these boxes and the variations of vegan friendly products inside.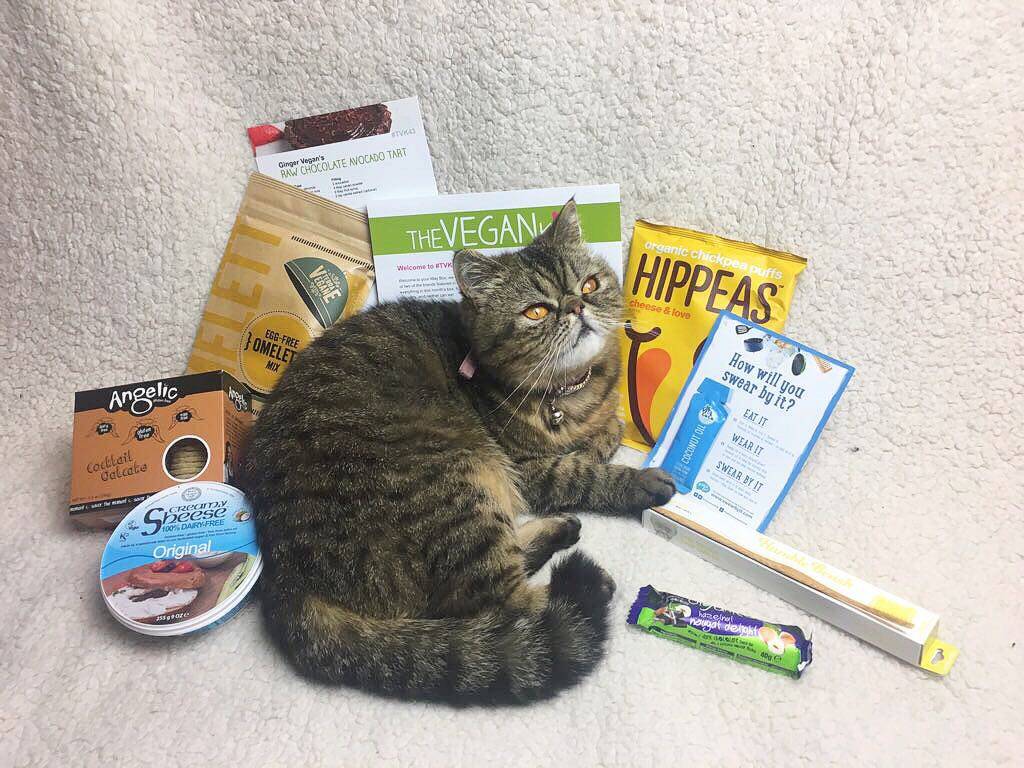 Each month the box also includes a recipe by an awesome fellow vegan, this months is by Mairi @thegingervegan and is a Raw Chocolate Avocado Tart… Goodness me. I've not had the chance to make it yet, but the name alone sounds incredible. Can't wait to give it a go!
As with every box, a donation of 10p goes to a featured campaign/charity. This month it's the Willows Sanctuary in Aberdeenshire, Scotland, who rescue animals in distress. They've been option since 1999 and have rescued thousands of animals so far! They rely on donations to run the sanctuary, check out their website here.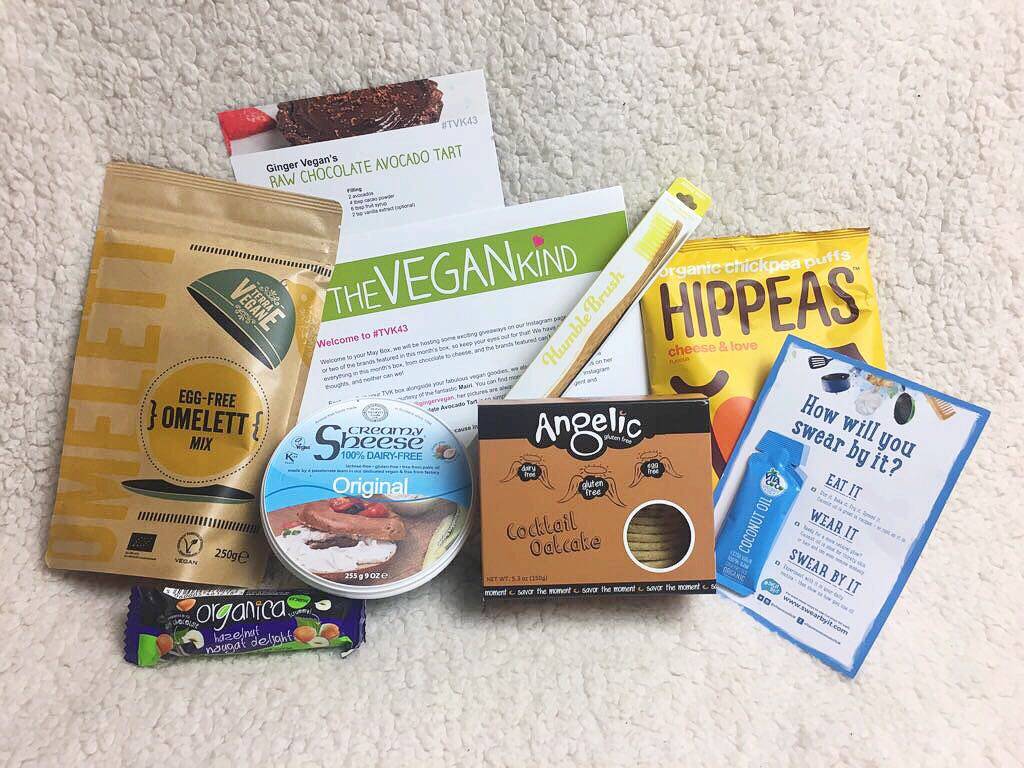 Humble Brush Bamboo Toothbrush (RRP £3.99) – I didn't even know toothbrushes made out of bamboo were a thing, but they are and I just love the idea of them. My only small issue is that the colour I was sent had yellow bristles, so it didn't look appealing, but it certainly did the job!
Check out Humble Brush's website here
Terra Vegane Egg Free Omelett Mix 250g (RRP £4.00) – You might remember this brand from #TVK41 – where the box included a Terra Vegane vegan cheese sauce. This one is a similar packet and concept – a powder you add water to! It turns out this is the first ever Vegan friendly Omelette Ready Mix and you can use it to make so much more than omelettes. Which works for me as before I was vegan I wasn't really a fan of eggs in any form, so being able to make a Quiche, Spanish Tortilla or Frittata is fab news!
Check out Terra Vegane's website here
Bute Island Creamy Original Sheese (RRP £2.30) – I rate this soft cheese brand SO highly. Whenever I go to a Vegan Food Festival and they have a stand I always make sure I buy a few tubs. This variation (they do other flavours too). Is definitely the closest to thing to Philadelphia that I've tried and I really enjoy that they call it "Sheese" (trying saying it out loud)!
Check out Bute Island's website here
Angelic Gluten Free Cocktail Oatcakes 150g (RRP £2.60) – Bite-sized oatcakes, perfect to dunk in dips (or even the Sheese in this months box). Unfortunately they weren't wrapped in smaller portions as other oatcake brands are, so once I opened these and had a dip nearby they were gone in few minutes.
Check out Angelic Gluten Free's website here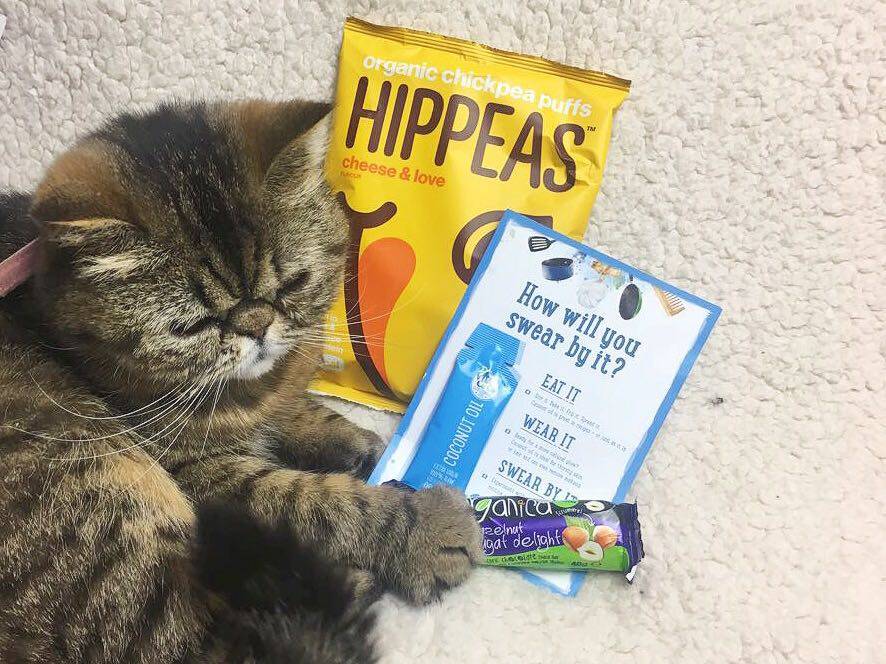 Hippeas Cheese and Love 22g (£0.99) – these crisps are one of my ultimate favourites at the moment. The 'Cheese and Love' flavour was only available in the US until recently, and I'm very happy that we now have them too! They're essentially Vegan Wotsits and they are so moreish. I could easily eat more than one packet in one sitting.
Check out Hippeas' website here
Organica Hazelnut Nougat Delight Bar 40g (RRP £0.99) – I think I've mentioned before, I am much more of a savoury lover than having a sweet tooth, that being said I am partial so a little somethin' somethin' to satisfy that sugar craving on occasion! Although relatively small in size, this was delicious but incredibly rich. I ended up eating this over two days.
Check out Venture Foods website here
Vita Coco Coconut Oil Sample Sachet (RRP £4.99 for full size 250ml jar) – big coconut fan as it is, but I hadn't ever tried this brand before. I used it to cook some veg and it certainly did the trick. Next time I see this brand on the shelf I'll definitely be putting it in my basket.
Check out Vita Coco's website here
If the TheVeganKind Subscription Box sounds like your kinda thing, sign up to have one of these delivered to your door each month, through their website!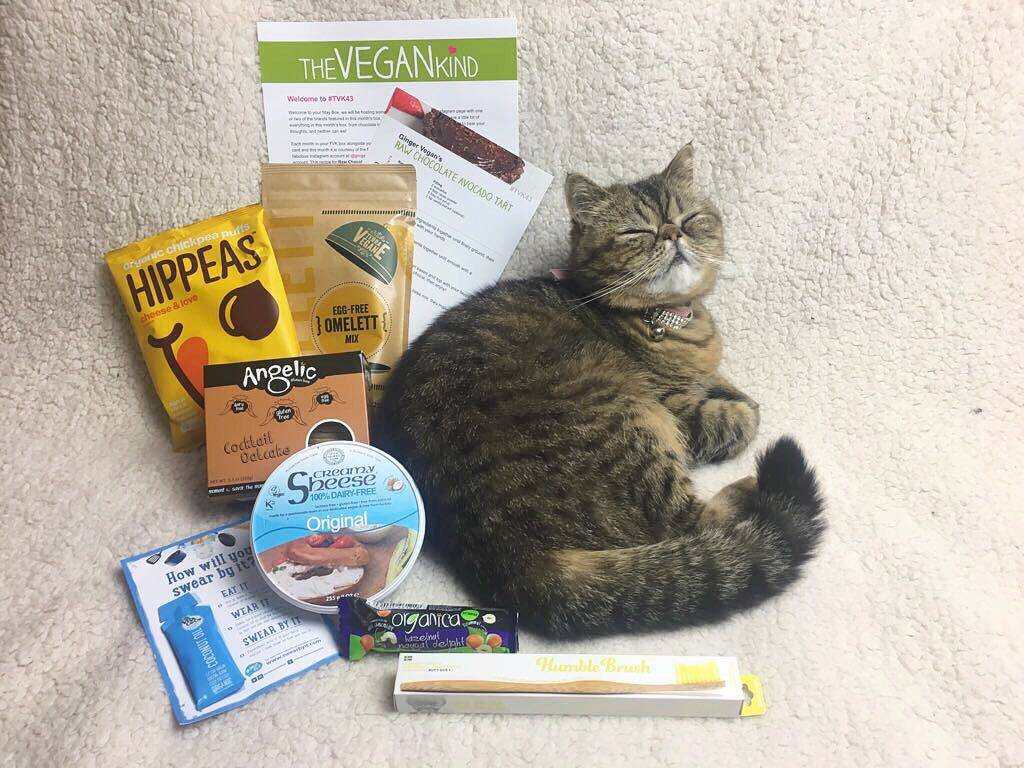 * I believe in 100% transparency, and with this in mind: this blog review was created in collaboration with TheVeganKind & contains affiliate links, which means if you buy something from their website through my link, I will earn a tiny little bit of money. However regardless of this all the views & opinions expressed in this blog are my own and a completely honest portrayal of my opinion of the products.