Last week before going to a gig in East London, I thought I would try out the new(ish) vegan fried "chicken" shop: Temple of Seitan, in Hackney. I've heard so many fantastic things about this place and the Vegan Chicken they sell, I'm actually a little shocked it's taken me this long to try it (considering it opened a good few months ago now, and is often at Vegan food festivals I go to).
The Temple of Seitan brand is quite famous in the "Vegan scene" – with huge queues at every Vegfest I've ever been to, with people wanting to try some of the Temple's 100% vegan "chicken".
I opted for "2 pieces" of Vegan chicken (AKA Seitan) with ranch mayo and (unaware of just how huge the 2 pieces would be), a side of Mac n Cheese… And oh. my. GOSH. It was certainly an enlightening experience. The 2 pieces were ginormous. They were delicious, deep fried, crispy lumps of heaven and the ranch mayo was the perfect addition to dunk them in (+ I also added a squirt of Sriracha because I am very partial to a bit of spice). Despite the size of the pieces, the Mac n Cheese was incredibly tasty too, and, adamant I would not be defeated. I managed to finish it all, it was also quite nice to have something soft and creamy as an alternative flavour/texture to alternate mouthfuls of Seitan with.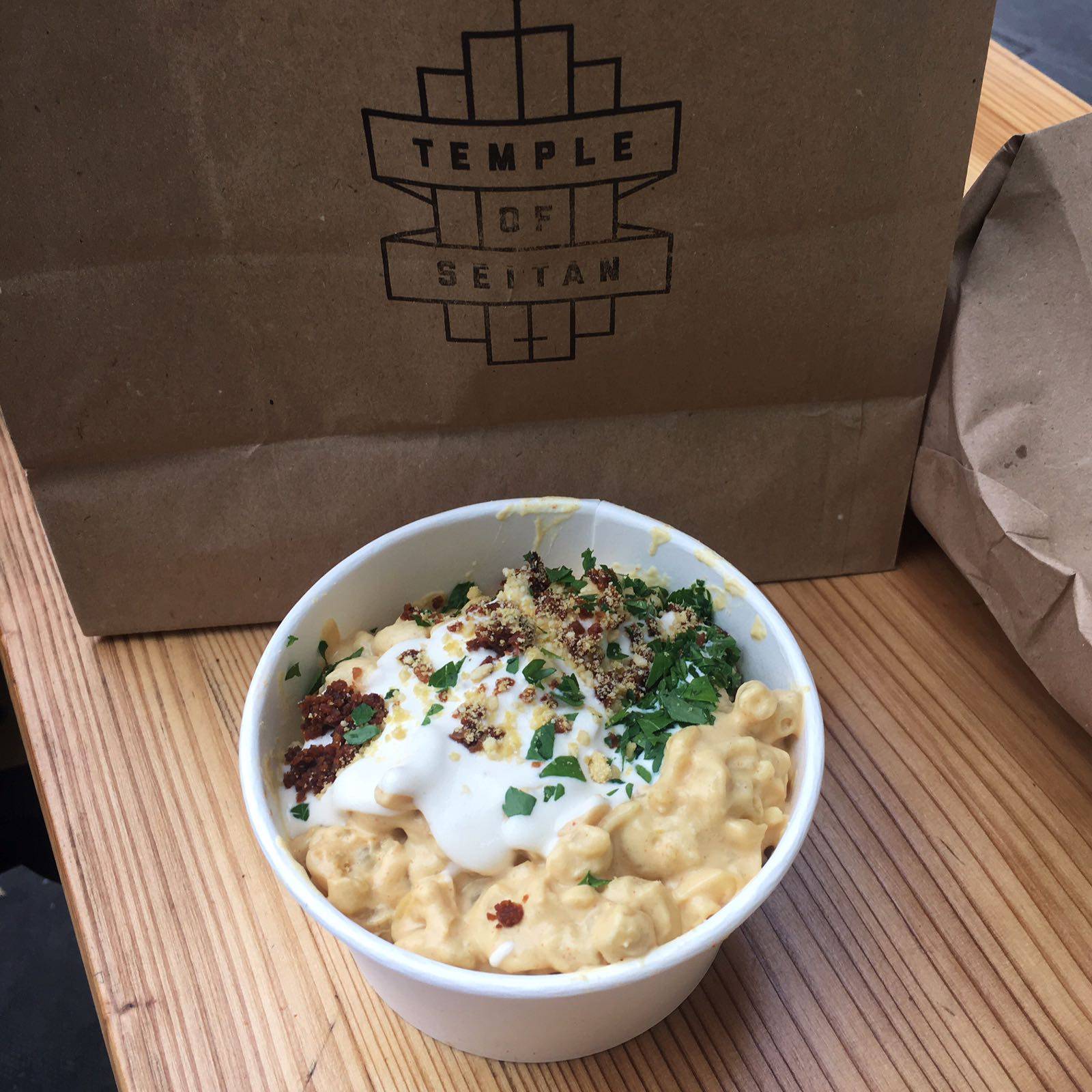 You'll know if you've read my previous blogs, I've never eaten or tried meat in my life, my family brought me up vegetarian and being vegan was a more recent lifestyle change (check out my Veganuary blog). So the idea of eating something that is intended to imitate meat so closely is a strange thought. However I've eaten plenty of meat substitutes in my life and eat them as they're just something else available to eat, and a whole lot of effort goes into making them taste great, so why not give them a go.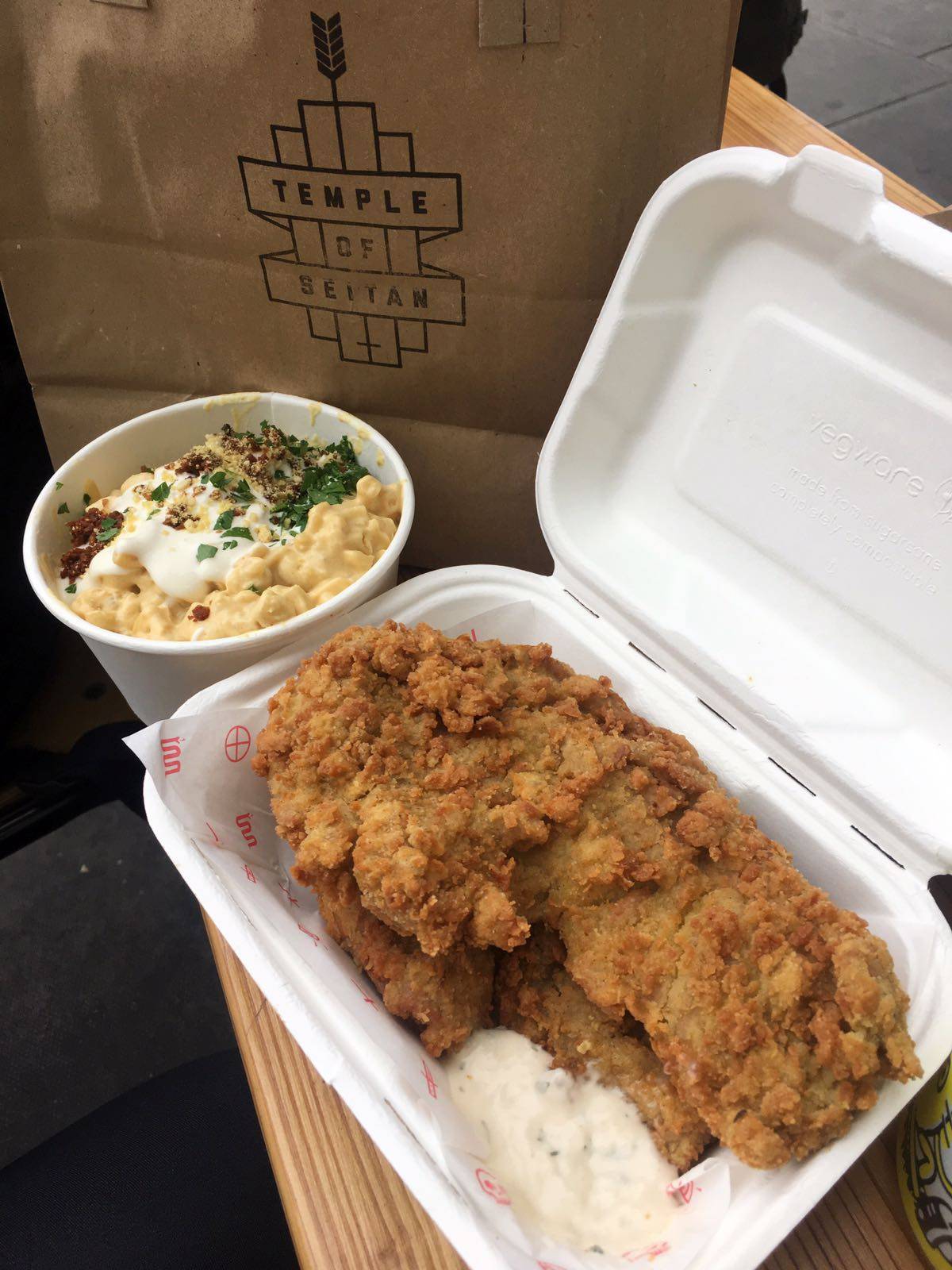 Some of you might be wondering what the hell Seitan, is? Well let me tell ya: Seitan is made from wheat (and also sometimes referred to as wheat gluten wheat meat, wheat protein, or just "gluten") and when cooked and flavoured it both looks and tastes very similar to meat (including the same "meaty" texture), making it increasingly popular among Vegans as a substitute to meat, especially due to how high in protein it is. Some widely sold mock meat products are made using seitan (e.g. Tofurky) as it can be flavoured in many ways to taste like all kinds of things.
It might come as a surprise (considering Seitan is literally made of gluten), but from what I understand they do have Gluten free Vegan Chicken options available too! If you're unsure and want to double check, they're pretty responsive on Twitter.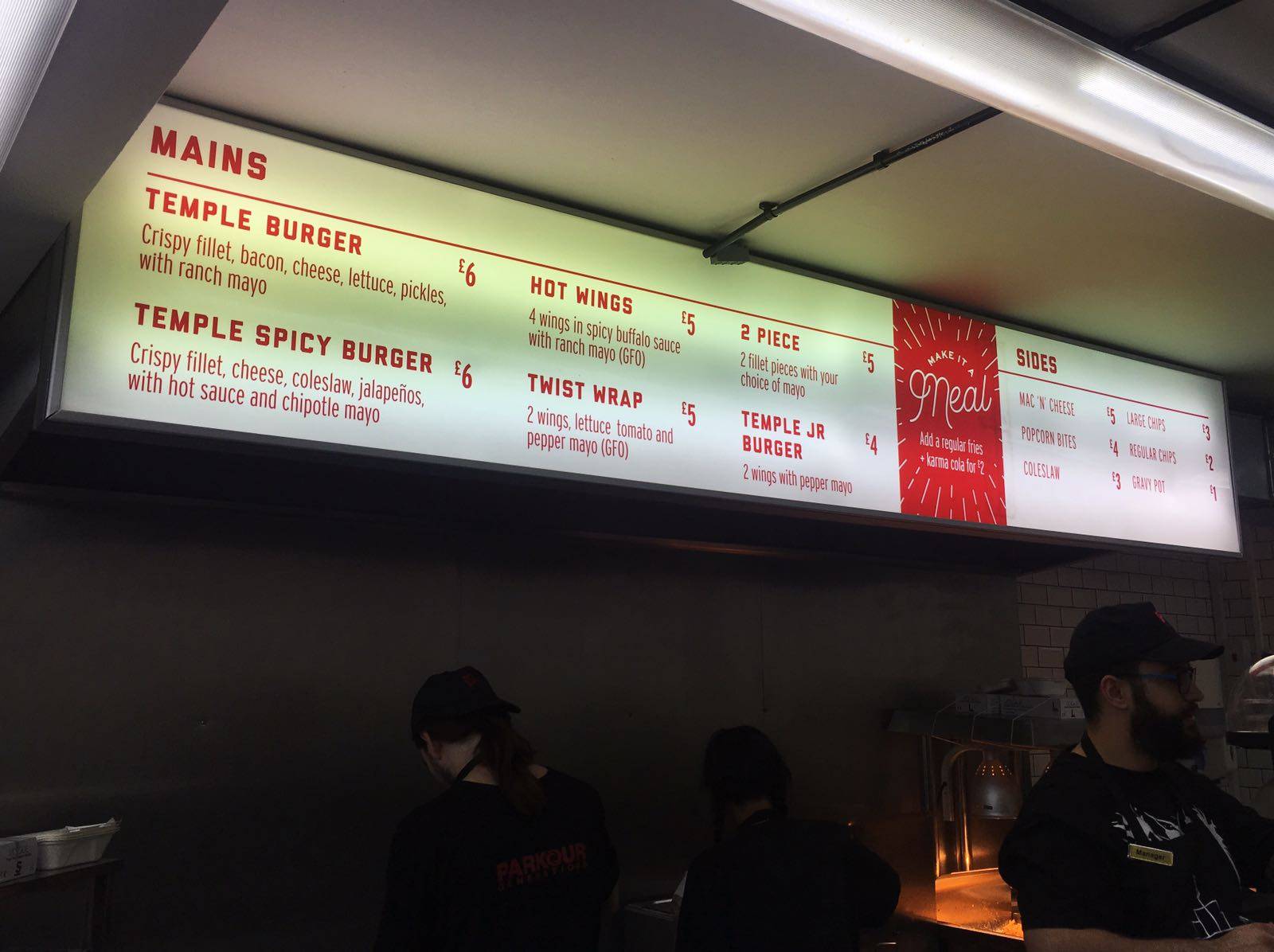 If you're looking for an easy to grab meal en route somewhere, then the Temple of Seitan will be just right. However if you're  after a fancy sit down meal then this place isn't for you. There is some (minimal) seating outside for 10 or so people (with a cover that's brought out if it rains), but other than that it's very basic.
I'm already looking forward to my next visit, I think I'll try the Temple Spicy Burger and Popcorn Bites next time… Basically, I intend to slowly make my way through all of the Seitan options available.
Check out Temple of Seitan's instagram for more pics of all the delicious food available!
That's all for now, so I'll leave you with Seitan's hot tip…