If you follow me on social media (instagram in particular) you'll be more than aware my mum and I went on a lovely, wholesome mother-daughter trip to Reykjavík in Iceland in November last year and we had the most amazing time. One of the highlights of our trip was seeing the Northern Lights (aka Aurora Borealis) together on our second night. I posted some of the amazing pictures we got under the beautiful green sky online (check out my insta post below) and I got loooads of subsequent questions, so thought I would write a little somethin' somethin' on the blog doing my best to answer the recurring questions people asked! This is actually a pretty lengthy post, but I've made sure the questions are in big, bold writing so it's easy to find the answers to any burning questions you might have about this phenomenal natural occurrence.
What are the Northern Lights?
The Northern Lights (or their "proper" name: Aurora Borealis) are a natural light display that can sometimes be seen in the sky in places of high-latitude. The Aurora Borealis happens when the the earths solar wind and magnetic field in the atmosphere interact, charging particles from the sun. When the particles come into the earths atmosphere they produce different colours in a range of shapes: "quiet arcs" which can evolve and change constantly whilst watching them, as well as "curtains" that consist of parallel rays lined up due to the Earth's magnetic field.
The colours vary in levels of rarity. The green lights being the most frequently seen, which is why almost all photos of the Northern Lights have a strong green presence. Pink is also fairly common and colours such as blue, violet, yellow and red can be seen sometimes and have been photographed too, although a lot less common!
That's how I understand it all to work after reading about it online and talking to people in Iceland about it. I've probably simplified it down quite heavy handedly. But I'll be honest, the whole phenomenon baffles and confuses me big time… It's basically magic, alright? (Speaking of magic, in the second picture below it sorta looks like my mum in the pink jumper is conjuring up the lights herself!)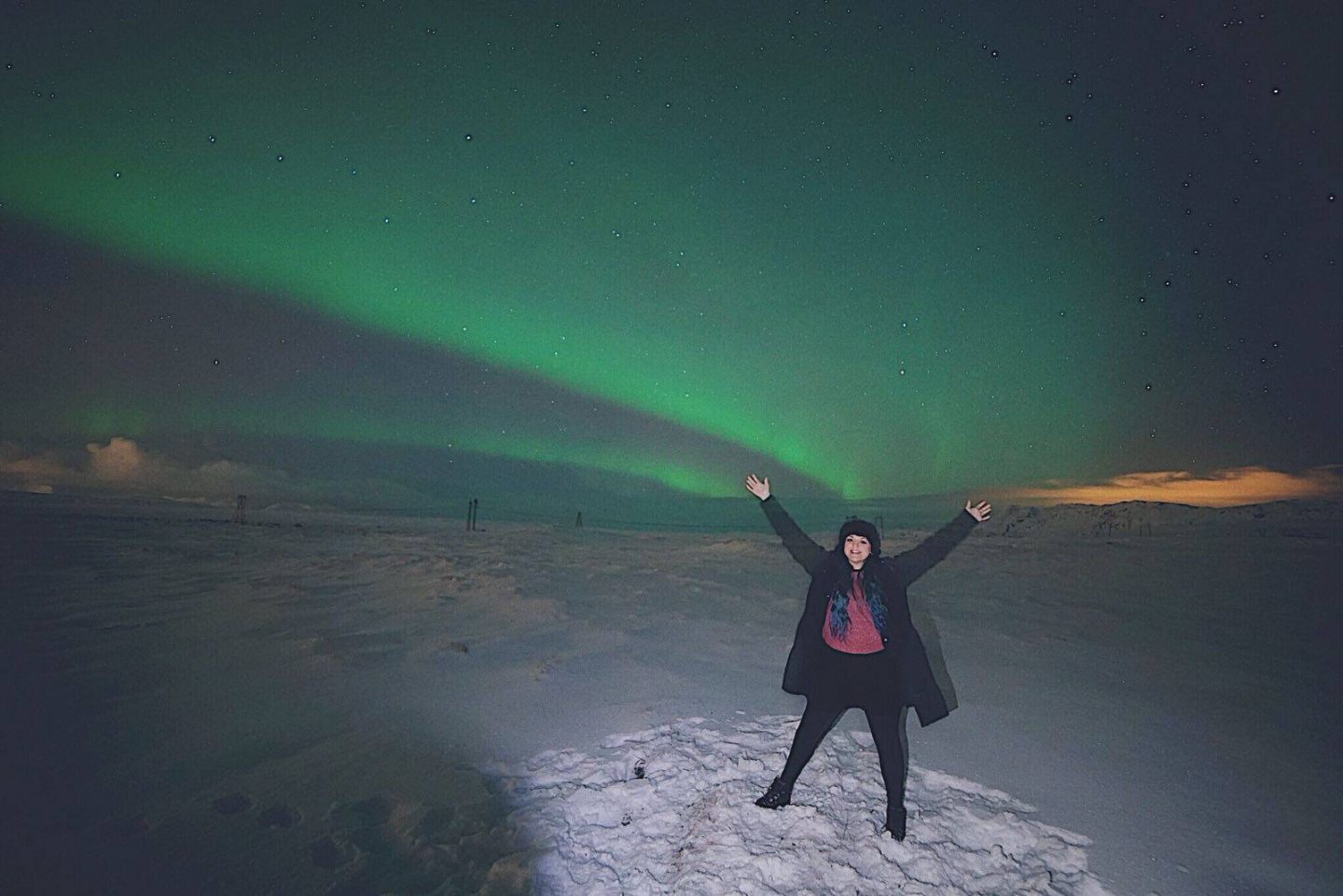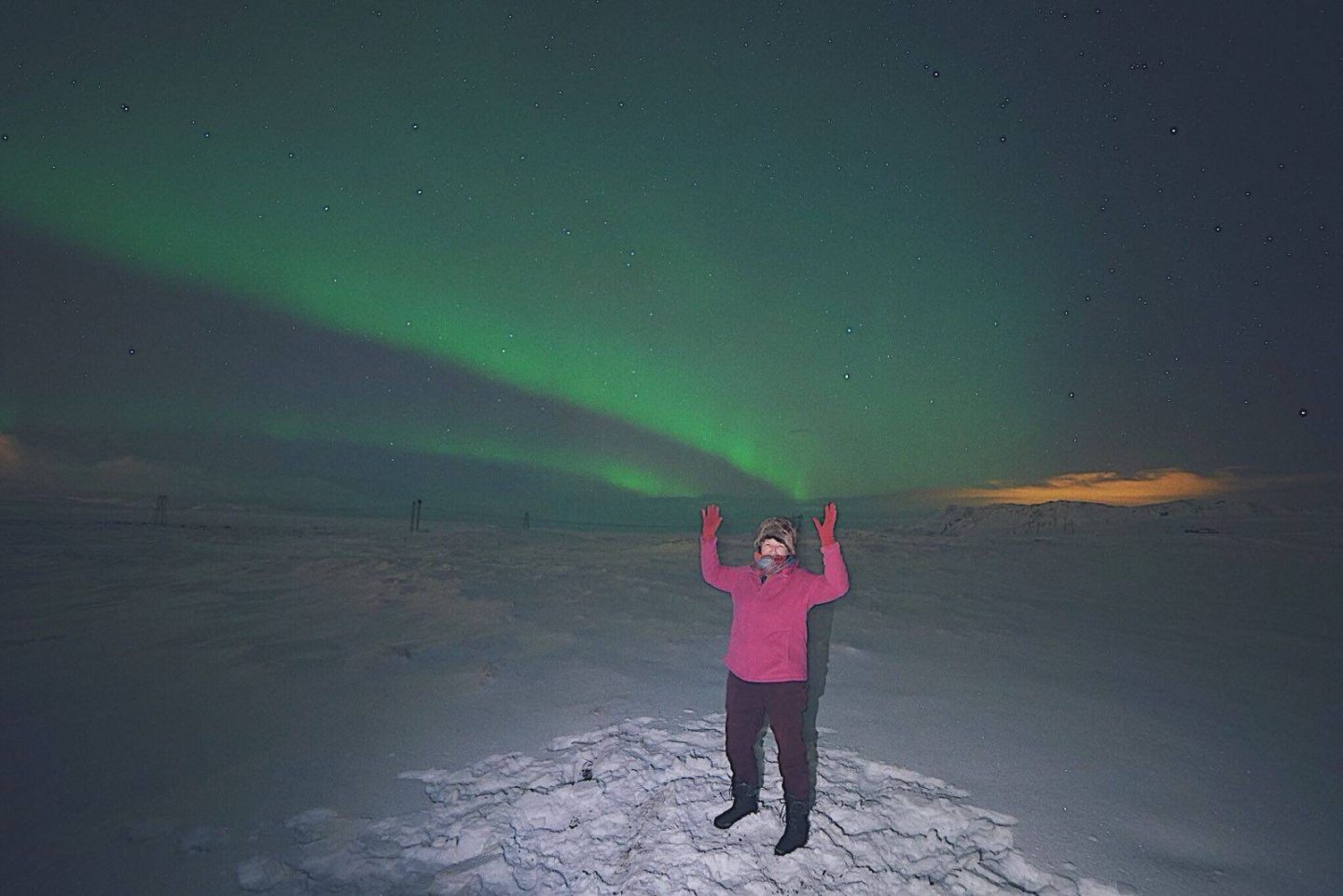 Do the lights and colours look the same as they do in photos?
The short answer? No. The phenomenal photos we see posted across the internet on social media and travel sites are often hugely manipulated to enhance the brightness and colour of the lights. For me, it was like seeing a green mist, with the translucency of a rainbow, on a dark sky. The longer you looked the brighter the colours became, although if you look at artificial light (your phone, camera screen, camera flash, etc) it will take your eyes a while to adjust again to be able to see them.
Where's the best place to see the Northern Lights?
Iceland is famously the hot spot to see the lights, although they aren't guaranteed. Once there, your best bet is off-road, away from any artificial city light… This seems like an obvious thing, right? However, I was shocked to see huge coaches of tourists sat at service stations, with everyone stood outside, looking up, holding cameras, hoping to see something… In fact we spoke to some women staying in the same hotel as us who had gone out to try and see the lights the same evening we had, and they had no luck at all.
On our way to see the lights, we turned and went off road at a service station I wrote down as being called 'Litla Kiffistofan' – unfortunately I can't seem to find this name online so I'm not sure if I wrote it down incorrectly, if anyone knows what the name should be, please let me know!
When should I go and see them?
First of all spend some time researching before booking your flights, there are so many sites that tell you the likelihood of seeing the Northern Lights at different times of year. Next up, once you're there it's the weather guide – most hotels have these at the front desk from what I understand and the people on reception at our hotel were hugely helpful when we asked them about it. There are also apps that tell you when you're most likely to see them (I'll find out which apps these are and update this blog)!
The main piece of advice I've been telling everyone is to book your excursion and go out hunting for the lights on the first night of your trip. Most companies do a "guarantee" where you can go again nightly (providing they're not fully booked) until you get a chance to see them if the luck of the weather is on your side during your trip (remember, it's not guaranteed!).
Who should I book a guided excursion with?
Do your research! A lot of people opt for hiring their own car for the trip so they're free to go where they want when they want. Although this does sound appealing, for my mum and I this wasn't the best option because first of all: I don't drive (I know, I know!) and second of all: we didn't want the extra worry of navigating maps on roads we're unfamiliar with, getting lost in the dark (as let's face it, it's dark a lot of the time in the winter when you have the best chance of seeing the lights), and we didn't want to have an accident in the middle of nowhere.
After a bunch of research and advice from friends, we opted fora guided 'super jeep' excursion with a company called Arctic Adventures. The evening was just perfect and our driver and guide 'Simon' was absolutely fantastic. He was knowledgeable of photography, friendly and willing to answer questions (and humour us if we wanted a whole array of photos). The vehicle we were in was a modified Mercedes, which I understand can only be found in Iceland. The company that makes them is the same one that modifies vehicles for polar expeditions, so we were in good hands! They take the body of a Mercedes van and build an entirely new motor underneath, which they call a "super jeep". The wheels are 44 inches and can inflate and deflate whilst driving – very handy for manoeuvring over the soft snow!
For two of us, our excursion cost just under 36,000ISK – this roughly converts to about £260, for a 3 hour trip. There was a deal on when we booked but this is a link the exact trip we did.
How do you photograph them yourself?
We were lucky because our driver Simon had his own digital SLR camera and tripod and took numerous photos for everyone (which was included in the price of the trip). He also took a couple of extras of the sky without any of us in, another keepsake of the stunning skies!
On the drive out to see the lights he gave some advice on the best ways to capture them. First of all, always use a tripod, and ideally a digital SLR camera. I am in no way a photographer so don't want to give any incorrect information, however I do know that a long exposure is a must, I think we stook still for 5-10 seconds + if you want people lit up in the foreground you have to flash a bright light or torch very briefly whilst shooting the photo. These pointers seem pretty spot on if memory serves me right as to what Simon told us!
Anything else?
On very rare occasions the Northern Lights can actually be seen over the city of Reykjavík, and if they're particularly spectacular the public lights in the city will be turned off to get a better view.
If you're lucky you can sometimes see them as you're leaving Iceland too (if it's dark outside). I caught a glimpse out of the window of the plane we were on shortly into our flight – there was a very light green colour that could be seen over the top of some mountains, I tried to take a photo on my phone but it came out terribly so I'm not even going to bother including it in this blog, but instead I'll leave you with a couple more photos taken by our Arctic Adventures guide.
If getting to Iceland isn't an option, it's also possible to see them in the UK sometimes. Check this website out which is a free service that alerts you to when the Northern Lights might be visible from the UK.
(Thanks to Arctic Adventures for letting me use the photos our guide took for this post. I also want to stress that this blog wasn't sponsored by Arctic Adventures, nor was the excursion complimentary. We genuinely had such a fantastic time I had to write about it and I wouldn't hesitate to book a trip with this company again!)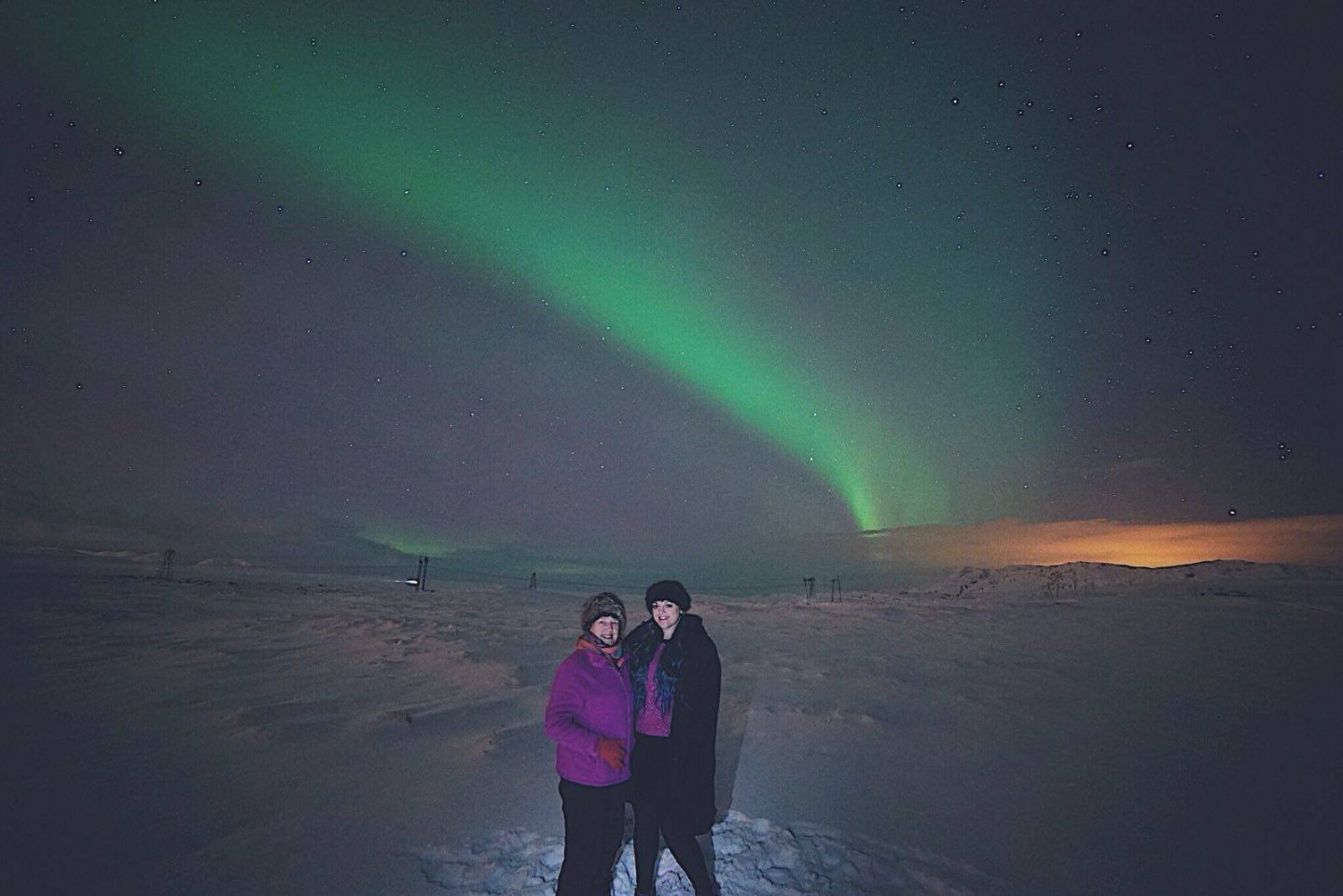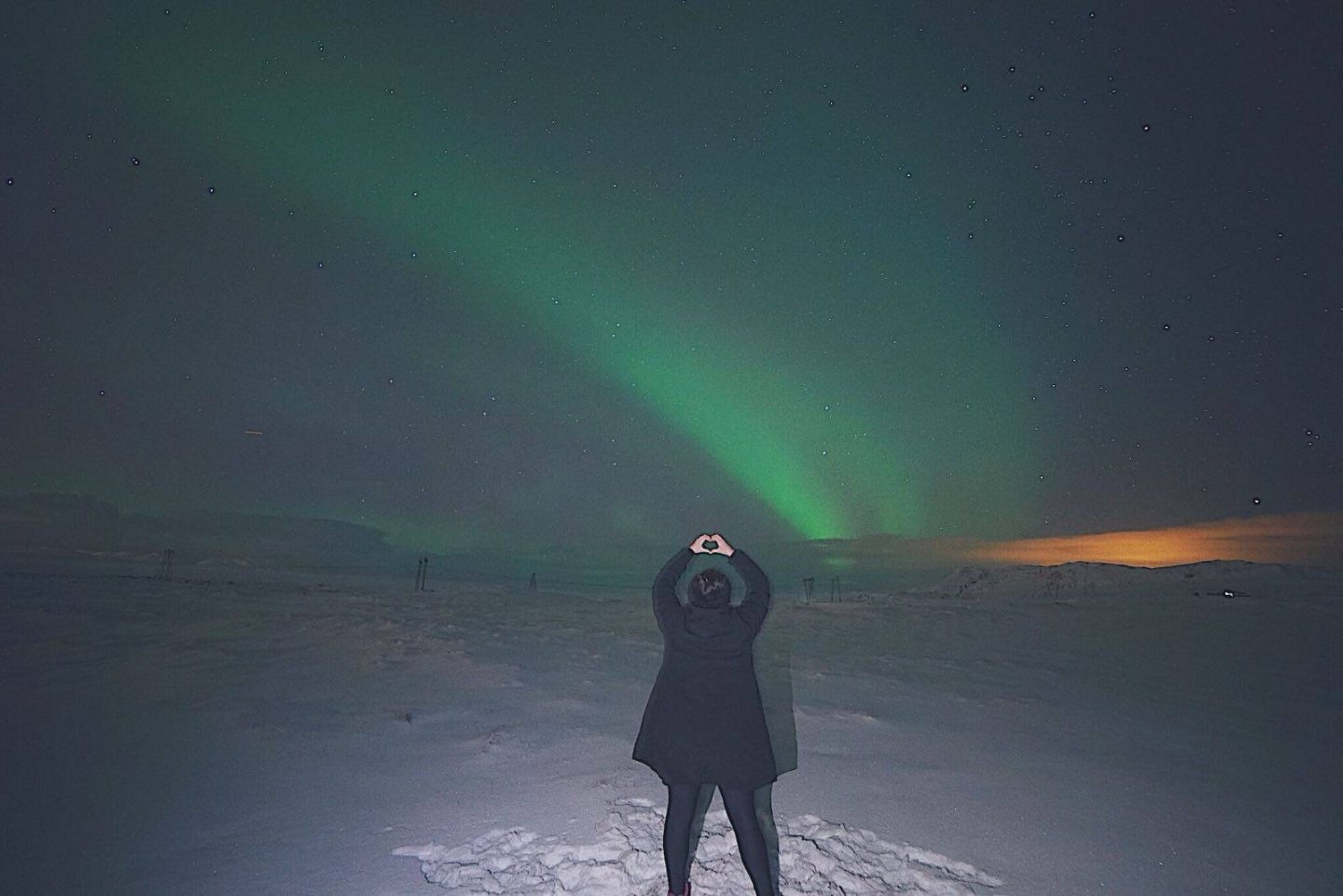 Another excursion we had hoped to go on was Whale Watching, but sadly due to weather it got cancelled on the day. However Natalie went on what looks like a fabulous trip seeing loads of wales with Special Tours who I'll definitely try booking with if I get a chance to go again!
Also, if you're planning a trip to Reykjavik, make sure you check out the vegan Oumph! burgers available at Hamborgarafabrikkan (Hamburger Factory)!