In January I will have lived in London for 4 years, and can you believe that in those years I had never ventured into one of the Indian restaurants on London's famous Brick Lane? Well all that changed recently thanks to an invite from City Spice – the Brick Lane Curry-House that has recently won 'Best Vegan Indian Restaurant' in the prestigious Bangladesh Caterers Association Awards (also know as the 'Oscars' of the curry-house awards!).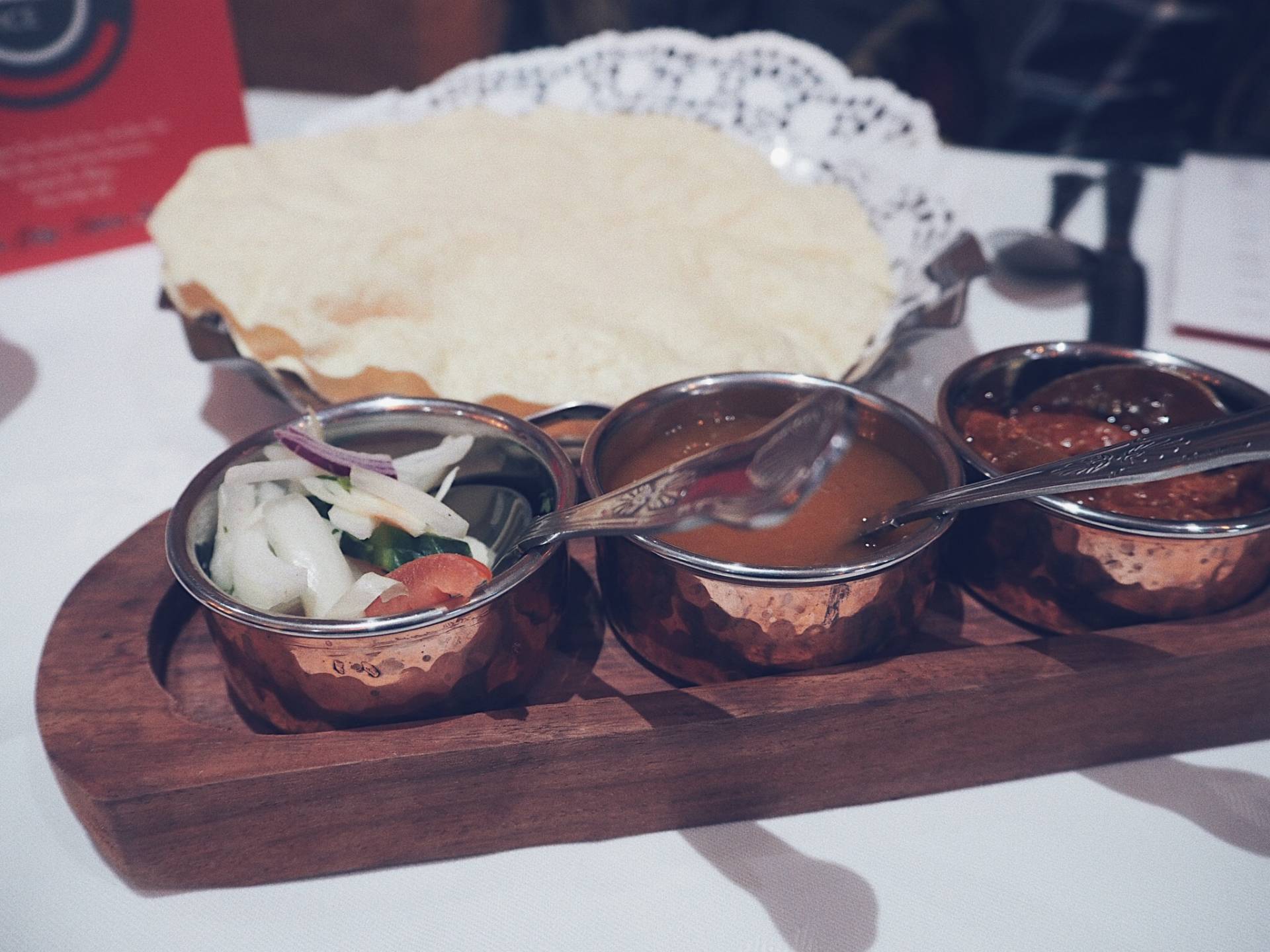 City Spice is a family run restaurant which recently launched Brick Lane's first ever vegan menu. This resulted in a 170% increase in bookings for the restaurant in the two months following the launch, and over a thousand vegan dishes were sold! Just goes to show that vegans really are a force to be reckoned with!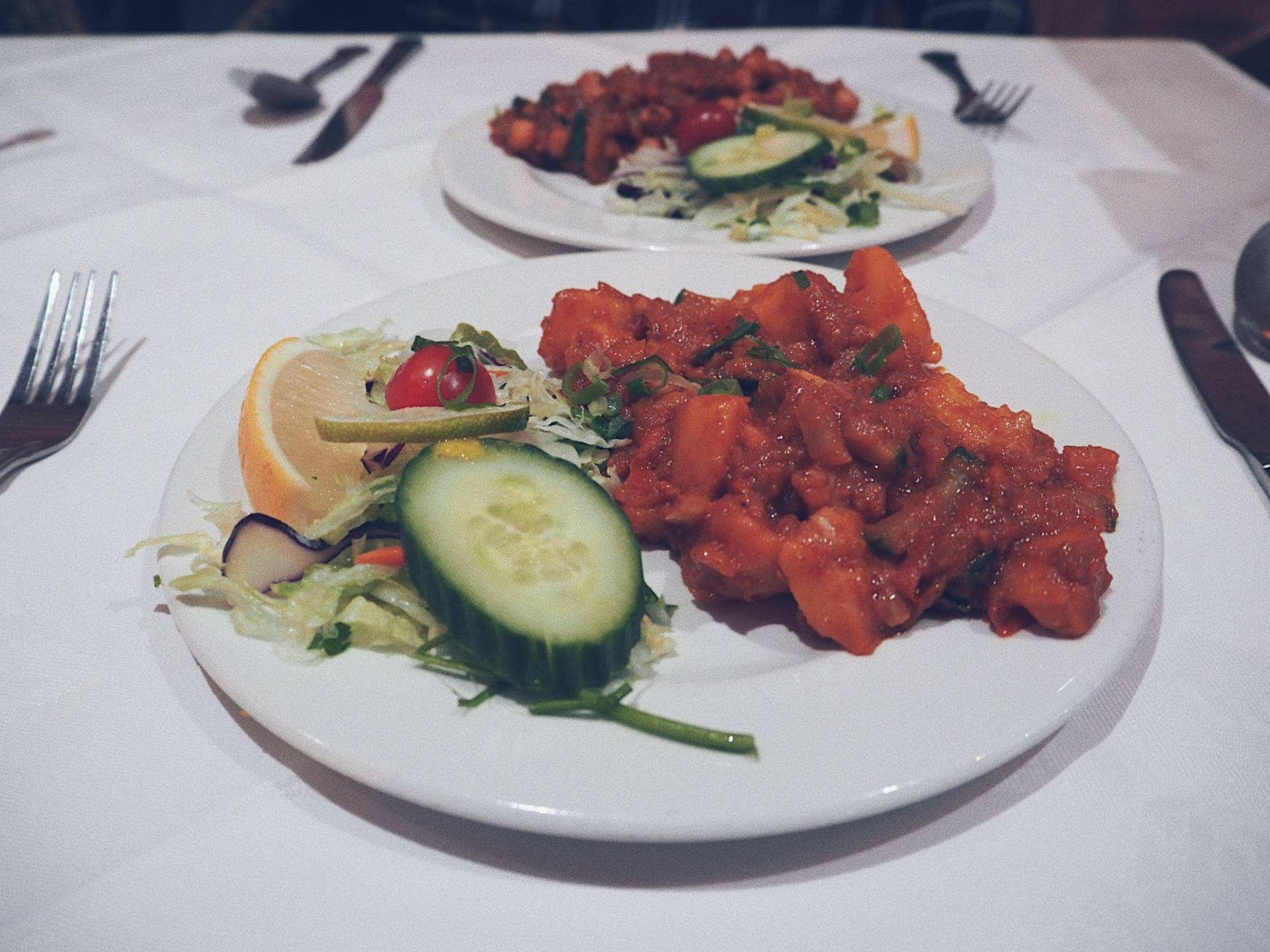 STARTERS
I took my friend Jessi (of Where's My Tent)along for the evening. Although she is not vegan, she is always super enthusiastic about trying new food and loves it just as much as I do! On arrival we had a tray of poppadoms served with a selection of vegan small bowls containing: mango chutney, chili pickle & onion salad.
On the menu, there are three vegan starters to choose from, we opted for two to share. The first City's Chana: chickpeas with a combination of cucumber and tomatoes, with chat massala. The seconds Aloo Chat: blend of potato and spices, served with tamarind sauce.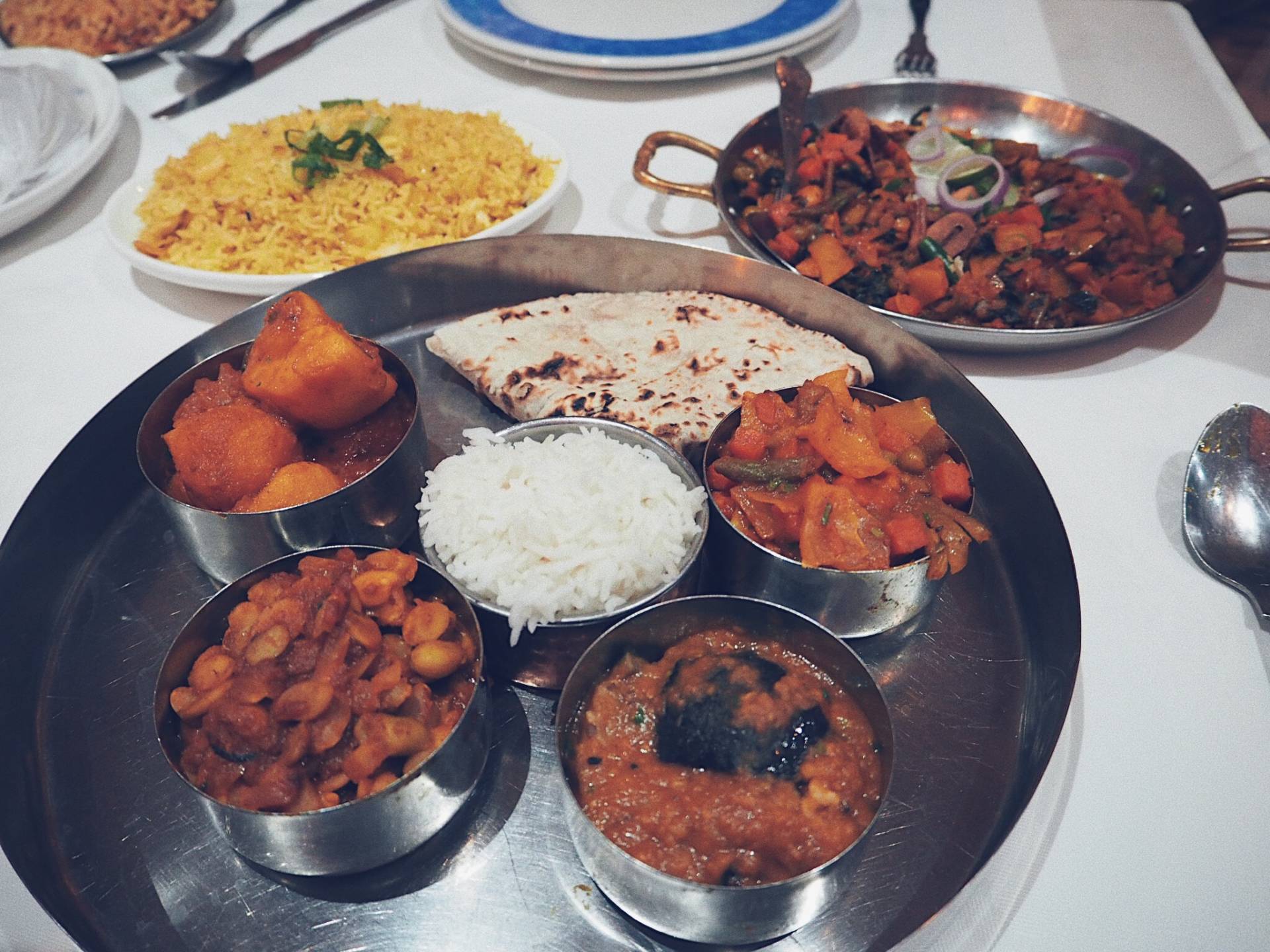 Shahi Sahakaria Thali, Shobji Garlic, & Garlic Rice @ City Spice, Brick Lane, London.
MAINS
As soon as I looked at the list of main courses (and there are a lot) the first thing to catch my eye was the Shahi Sahakaria Thali which is roughly translated as "The Vegan King". It's a thali-style platter that contains a mixture of small bowls with different dishes inside. This includes Uribeeshi Biran, Bombay Aloo, Begun Deal Gatta, Chappati, and Rice. I was a big fan of having a selection of things to mix with spoonfuls of rice and dunk my chappati in! My favourite was definitely the Bombay Aloo – I am such a sucker for potatoes in delicious sauces.
Jessi got the Shobji Garlic, which contained fried mushroom, potatoes and cauliflower, cooked with spices and herbs and of course, GARLIC… Garnished with spring onions and coriander. Although I am not a mushroom fan (at ALL) I *am* a huge garlic lover. So for the sake of the blog I tried a mushroom-less spoonful and the potatoes and cauliflower were all so so delicious.
The only slight disappointment for me was that they didn't have a huge range of starters, or sides more than the rice/breads. It would have been lovely to have seen some onion bhajis, or samosas in there. Perhaps even some cucumber raita using soya or coconut yoghurt, too!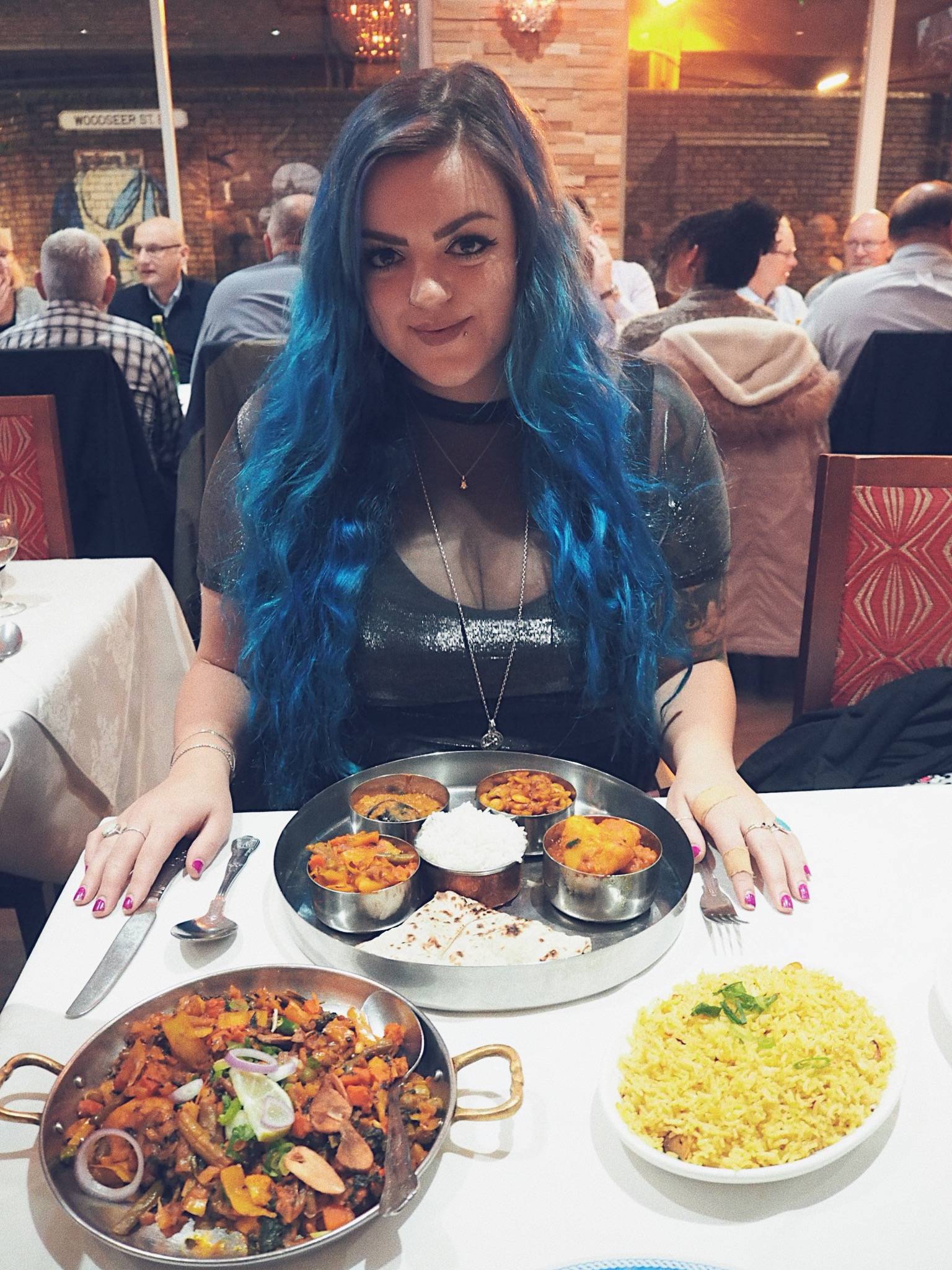 FINAL THOUGHTS
Overall it was a delicious meal and a lovely evening. The staff were friendly, albeit a little scatty at times – which is to be expected of a busy restaurant like this! They were also incredibly helpful and willing to answer questions we had about the dishes. I'll certainly be visiting again and trying some more of the colourful vegan options on the menu! The vegan menu also includes clearly labelled vegan wines which I was super happy about!
Jessi had a great time too, and here's what she had to say about it:
"City Spice was delicious! Although I'm not a vegan, I was impressed with the number of options available on the special vegan menu, as in other restaurants it can be quite limited. I had the Shobji Garlic which had lots of mushrooms and veggies and tasted divine! My only thoughts on how to better the menu would be to have something like vegan samosas or bhajis as a starter option, and also a vegan raita/yoghurt type dip to have with the poppadoms. Thank you so much Luisa for inviting me! I definitely went home full and satisfied!"
If this blog hasn't convinced enough, ITV news heard even about their award and paid the restaurant a visit at the end of November! If you fancy booking a table, you can find contact details on their website.
This meal was gifted by City Spice, but all views in this blog post are my own.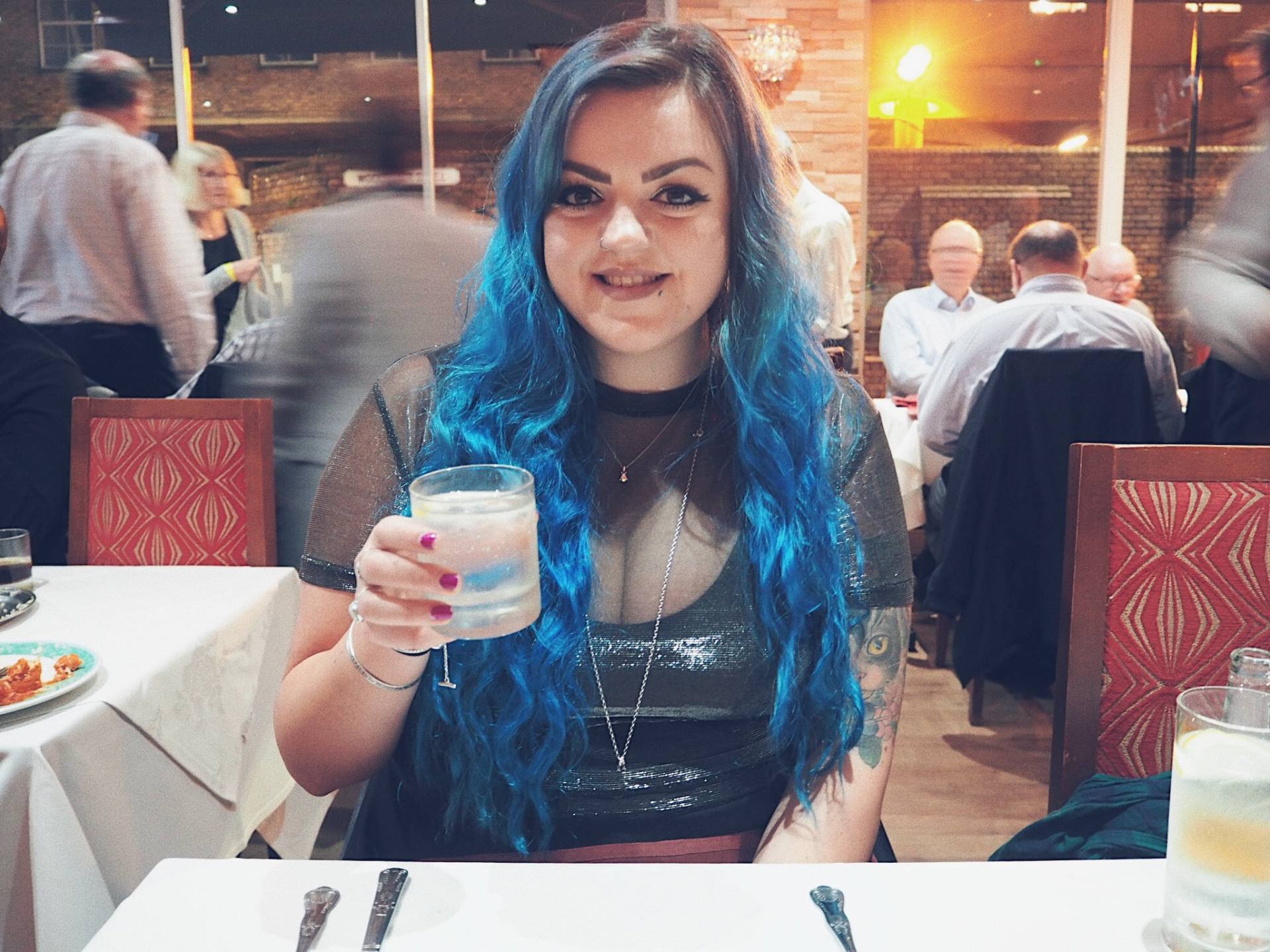 Ps. If you've made it this far I just wanted to let you know I'm actually off to India in April, and let me tell you, I am SO excited about all the amazing food I'll be eating out there! More information to come in a blog v soon