I often get asked if it's difficult or limiting having an entirely plant-based diet. It certainly can be tricky if you don't know where to go or what menu options are vegan options. But if you do, I think it's a breeze. Restaurants such as Tibits Bankside are the perfect place if you're after a variation of dishes, with a buffet style spread of incredible vegan and vegetarian food. You might remember I wrote about their restaurant just off Regents Street at the beginning of last year. Now they've opened a brand new, second restaurant, south of the river in Bankside.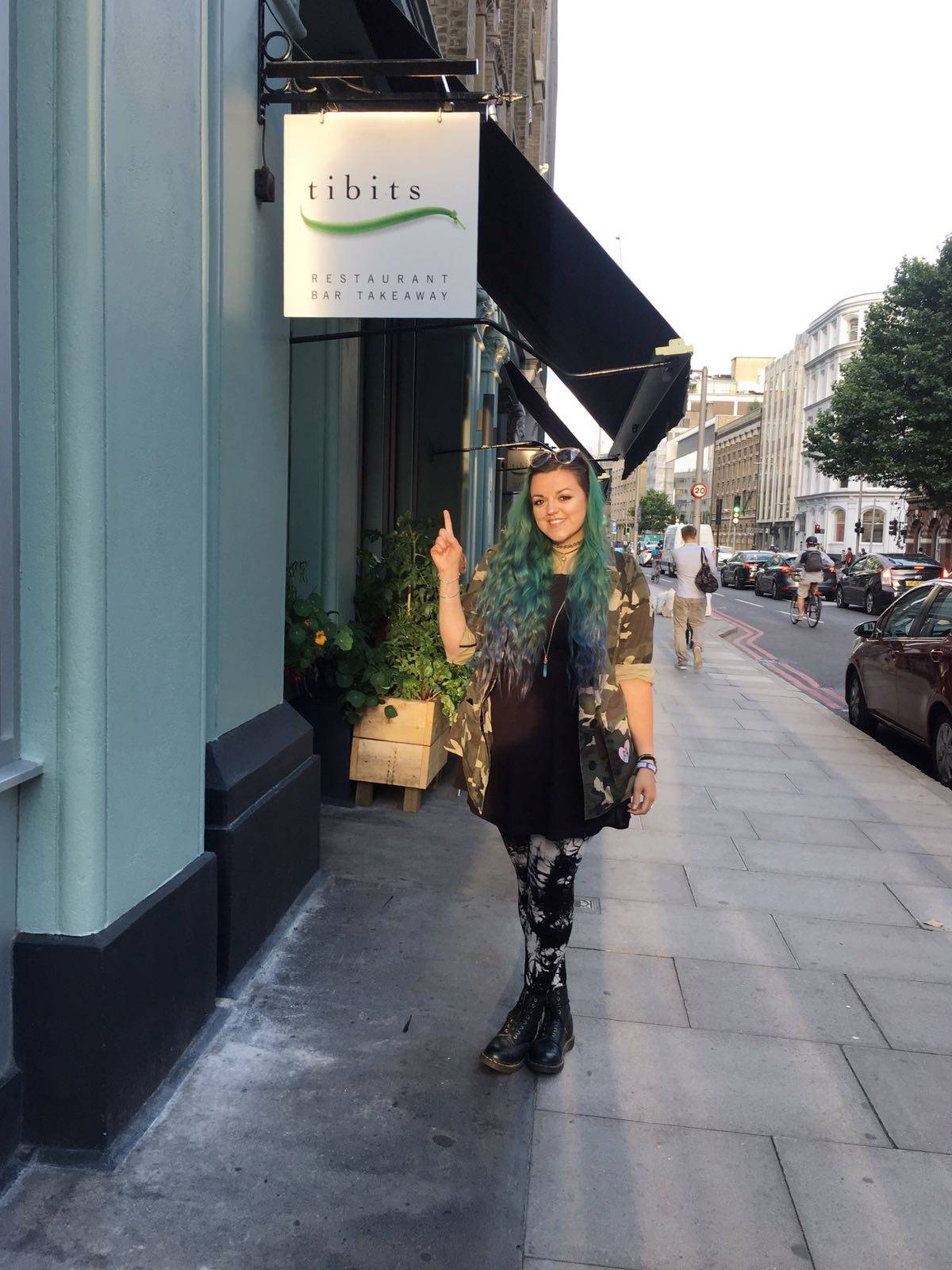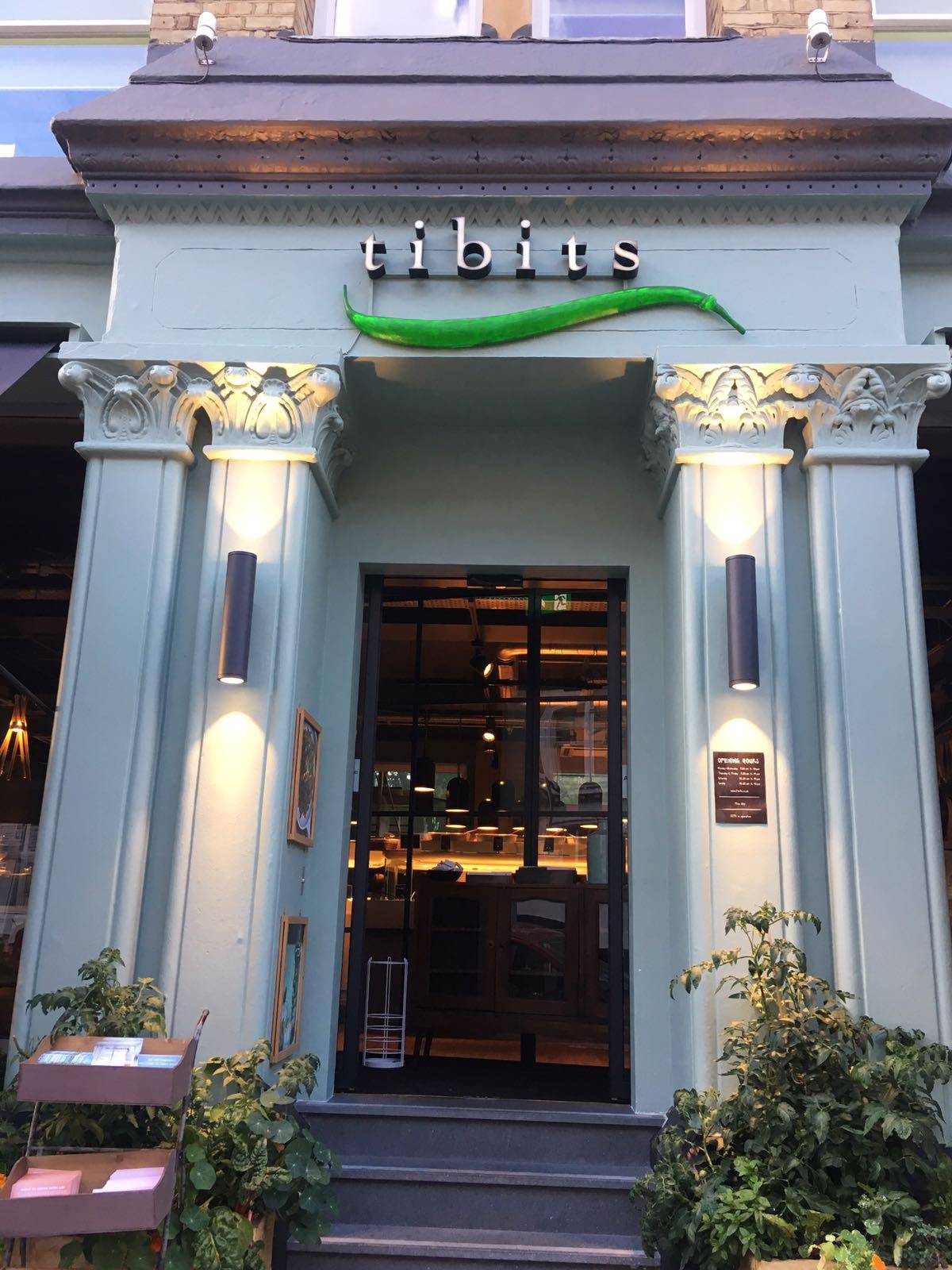 Tibits Bankside kindly invited me down to try out the new restaurant with a friend. I took my friend Chrystal along who was visiting for the weekend! When we walked in the first thing to catch our eye was the impressive food buffet boat in the middle of the room, with a huge selection of food available. Once spotted by a member of staff we were warmly greeted and taken to our seats, a lovely area on table for two next to the huge windows. I just have to take this moment to comment on the stunning wallpaper. It was so pretty – v. instagram worthy. You can see a pic of the wallpaper behind me at the end of the post.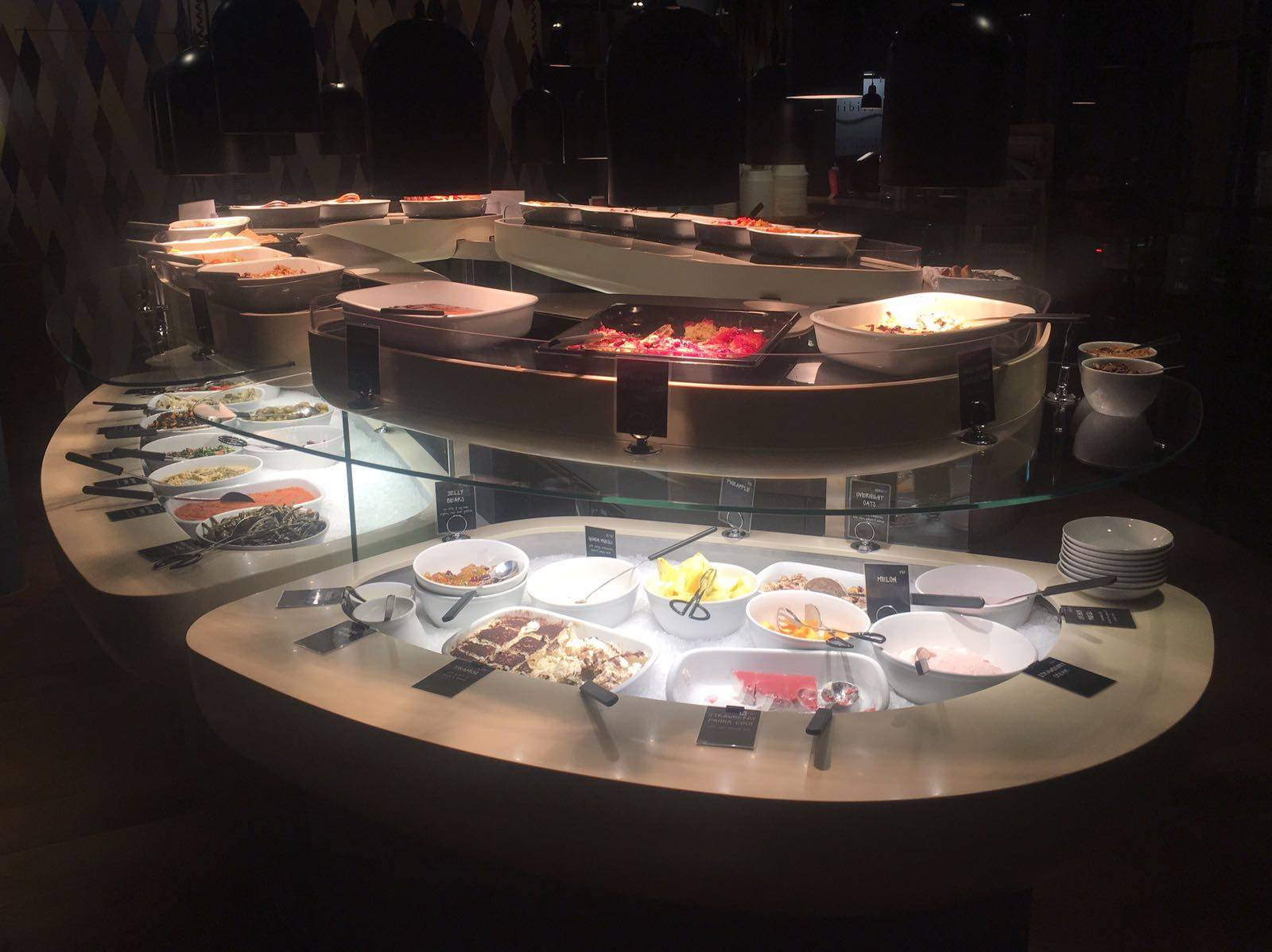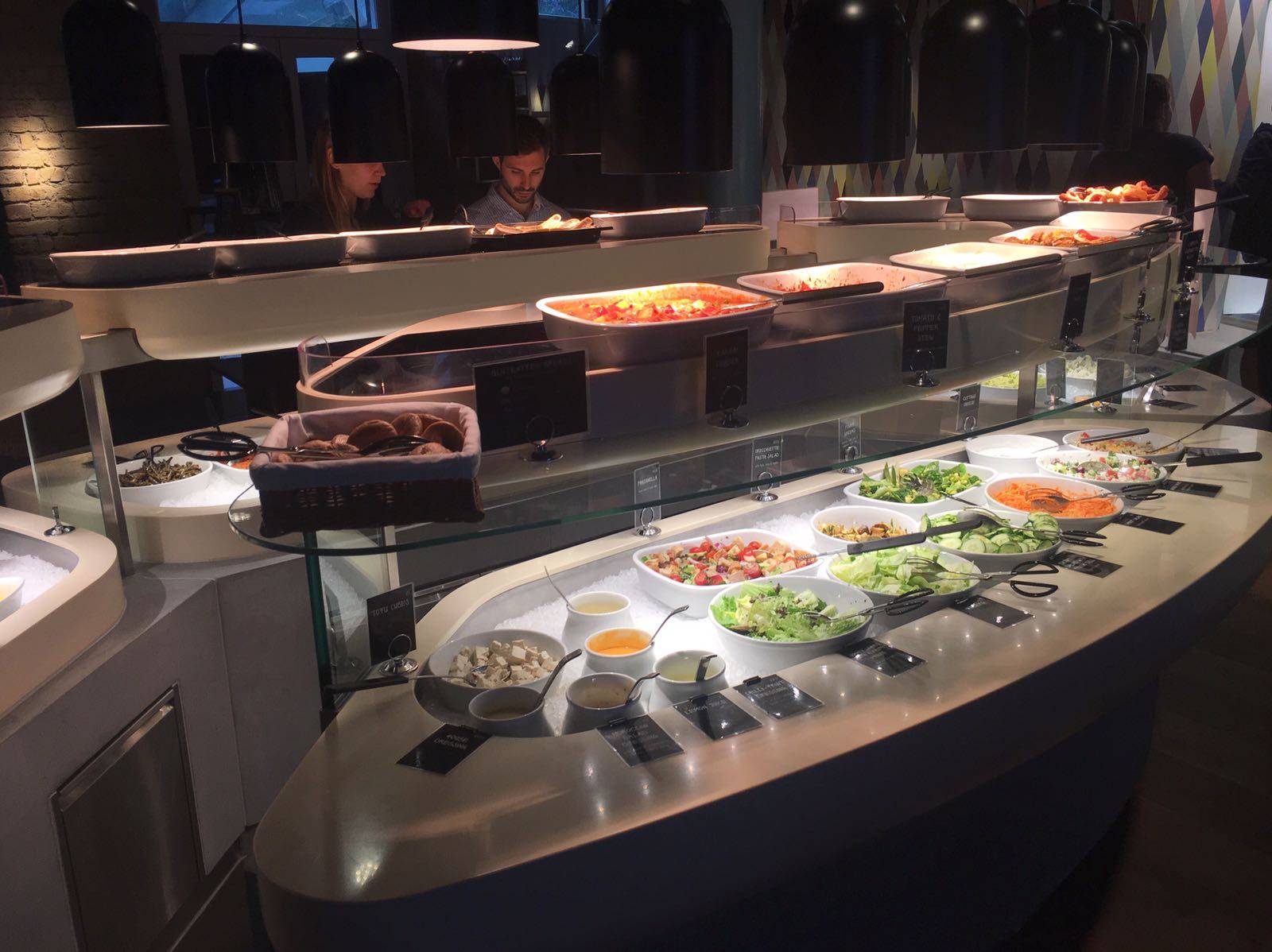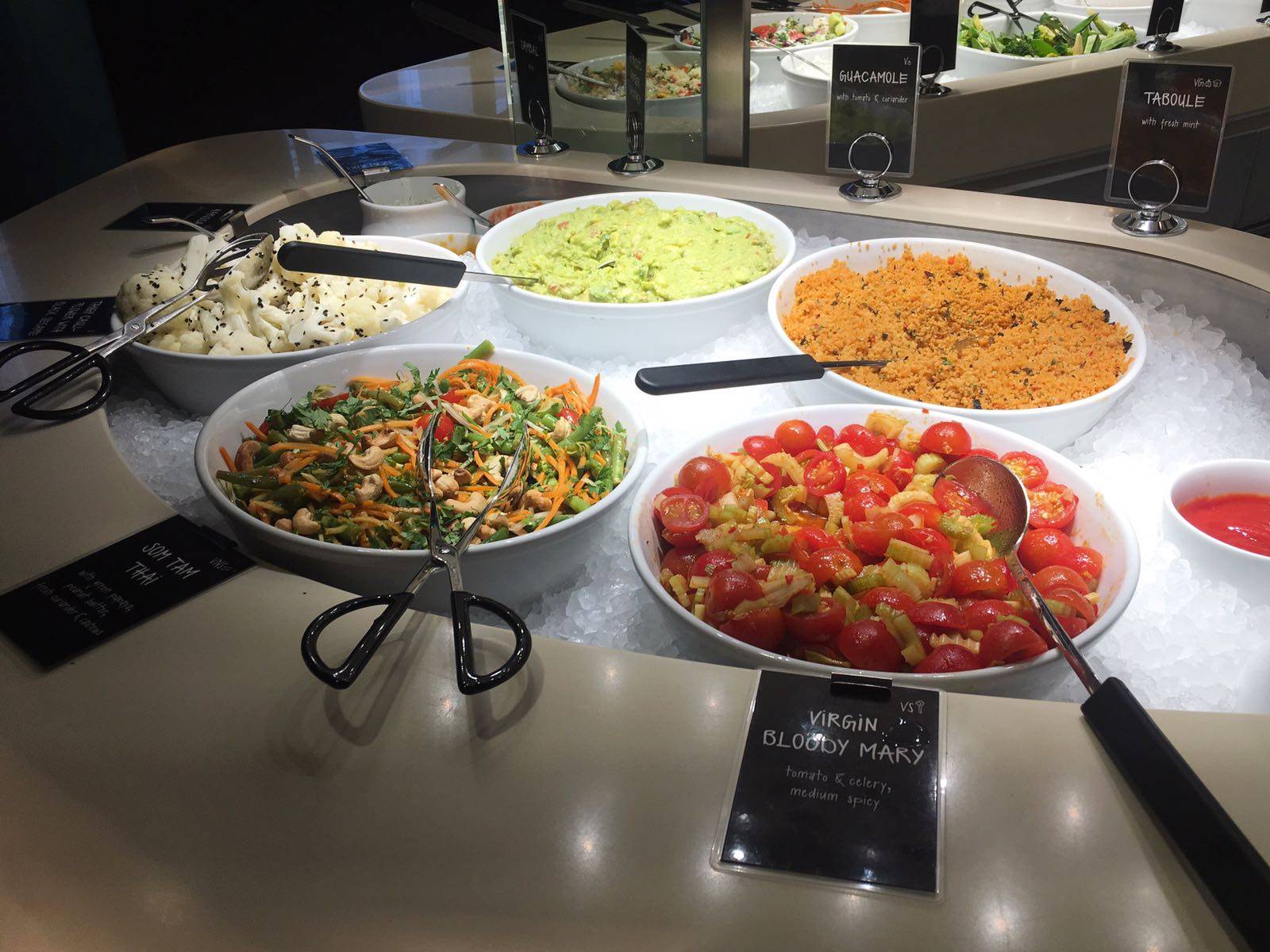 The way things are prices around here, is by weight. So you can go for as much or as little food as you fancy. The only downside to this, is it's possible to get excited and pile your plate incredibly high. Not that I can relate to that in any way…………… Hahahahah, I joke, my plate was like Everest. The prices are below.
Breakfast £1.80 per 100g
Lunch £2.50 per 100g (served from 11.30am)
Dinner £2.80 per 100g (served from 6pm)
The selection of food available when you go up to choose is pretty overwhelming, but in really awesome kind of way. Everything they serve here is Vegetarian, including the drinks and sweet stuff. There are so so many options, enough to cover whatever you fancy, inspired by dishes from all over the world. Each option is labelled clearly with allergens – covering the most common dietary requirements, as well as a 'V' dependant on whether the ingredients are suitable for Vegans.  There really were so many delicious looking dishes in every colour, I was in my element (I'm a sucker for a colourful plate)!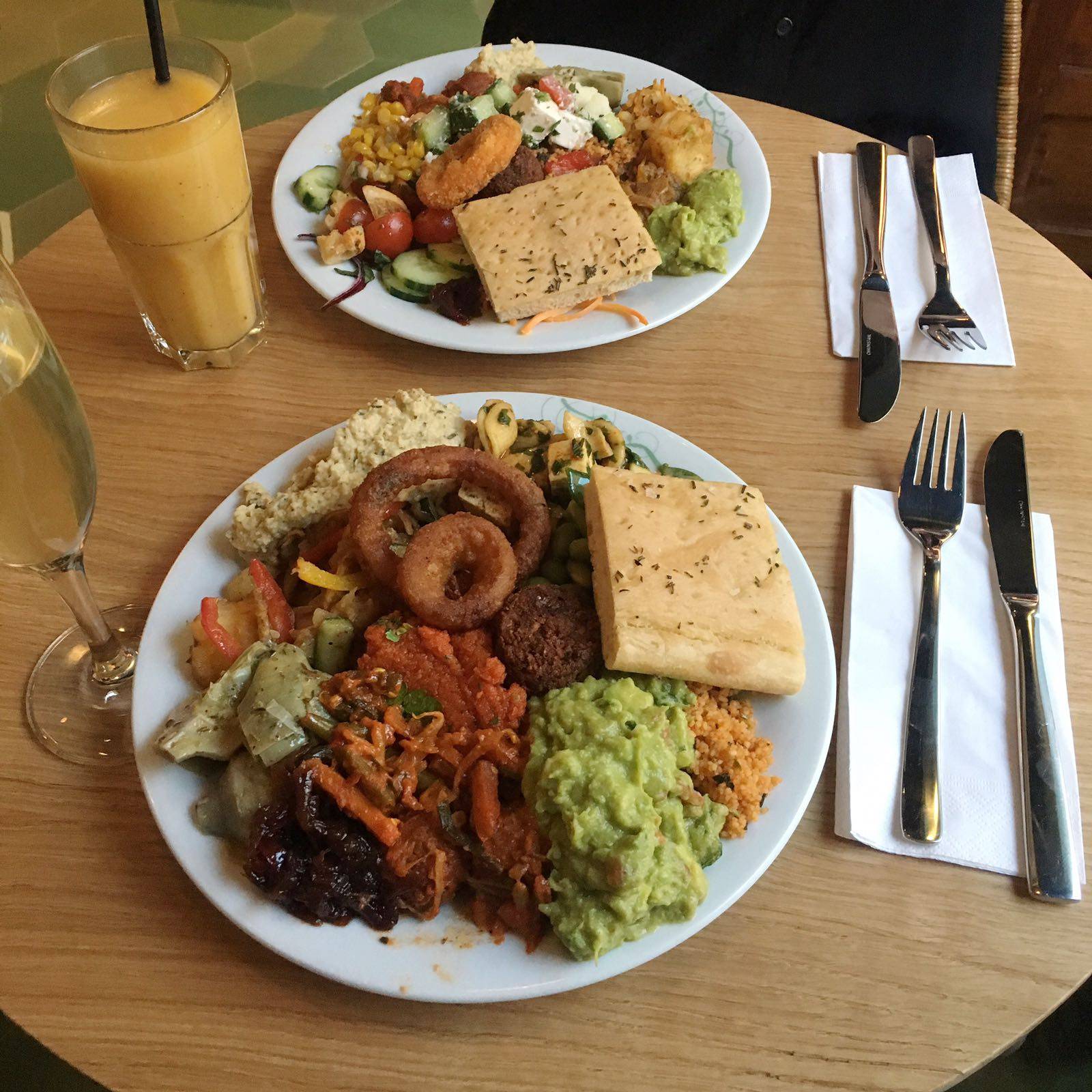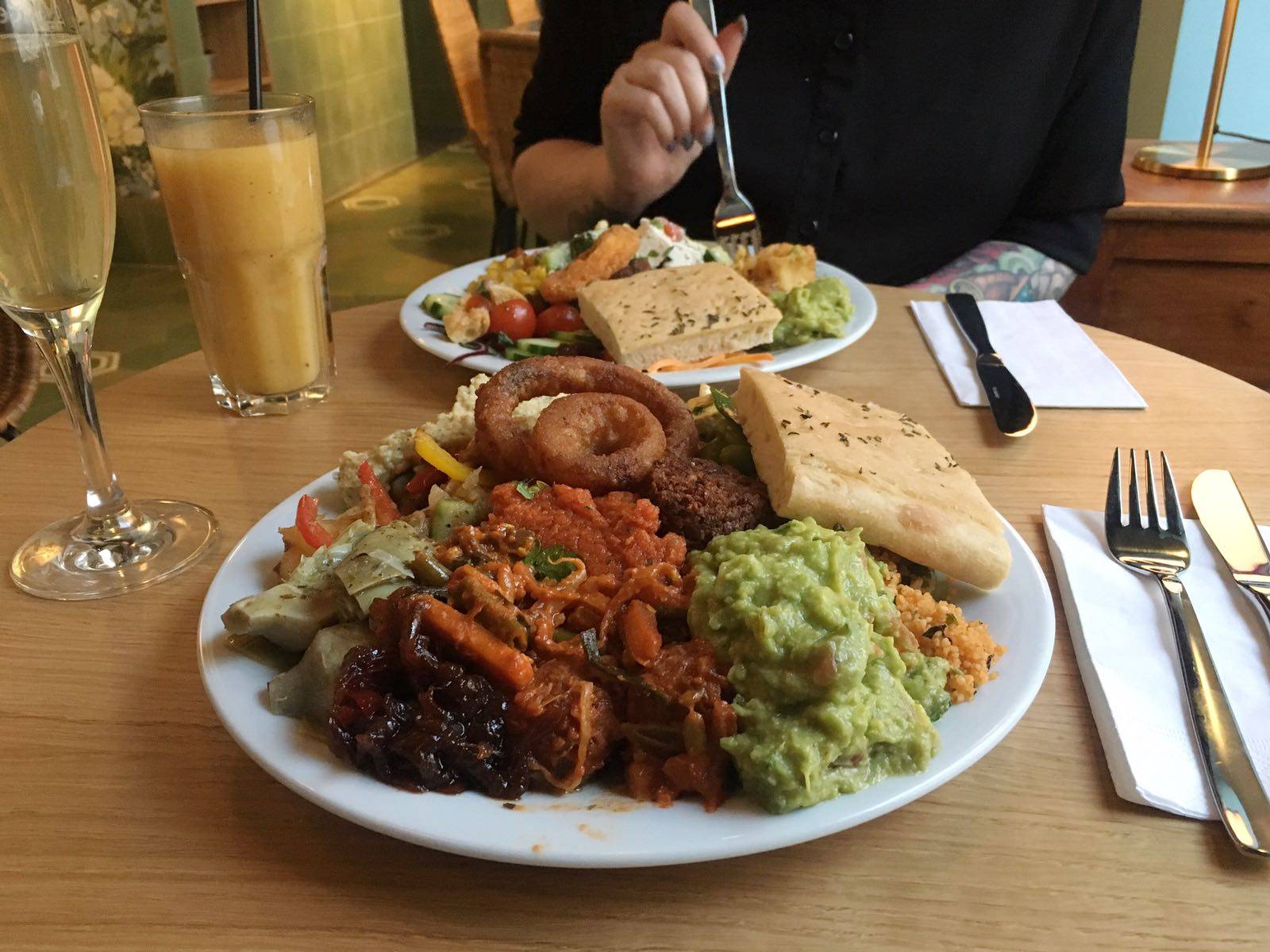 Some of the dishes I tried that were amongst the mountain that was my plate included: Kebab Stir Fry, Orecchiette Pasta Salad, Som Tam Thai, Virgin Bloody Mary, Za'atar Hummus, Vegetable Tatar, and Beer Battered Onion Rings.
For drinks: I opted for a glass of prosecco (trying to be classy an' that) with peach juice in it – instant Peach Bellini! Chrystal had a Tutti Frutti Smoothie.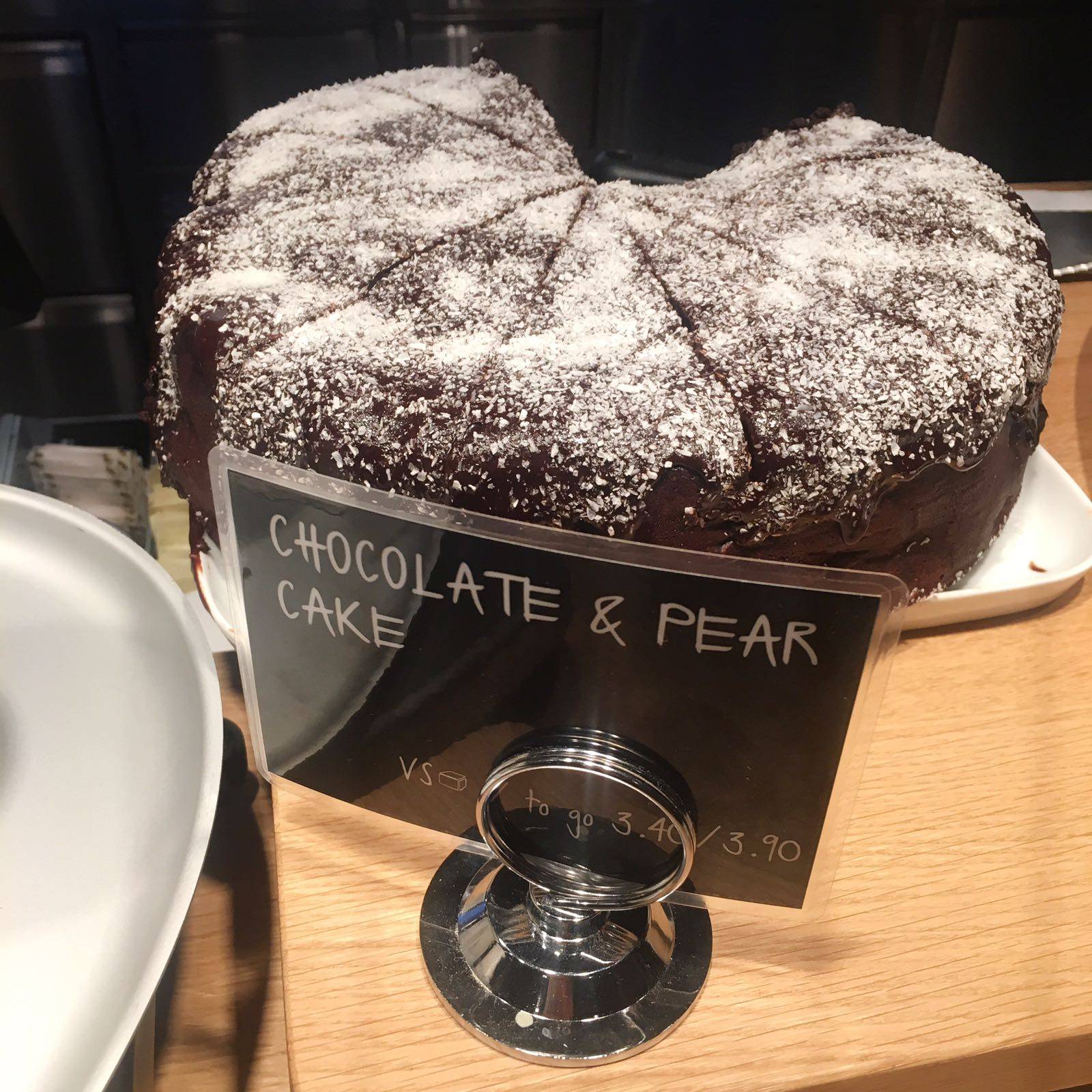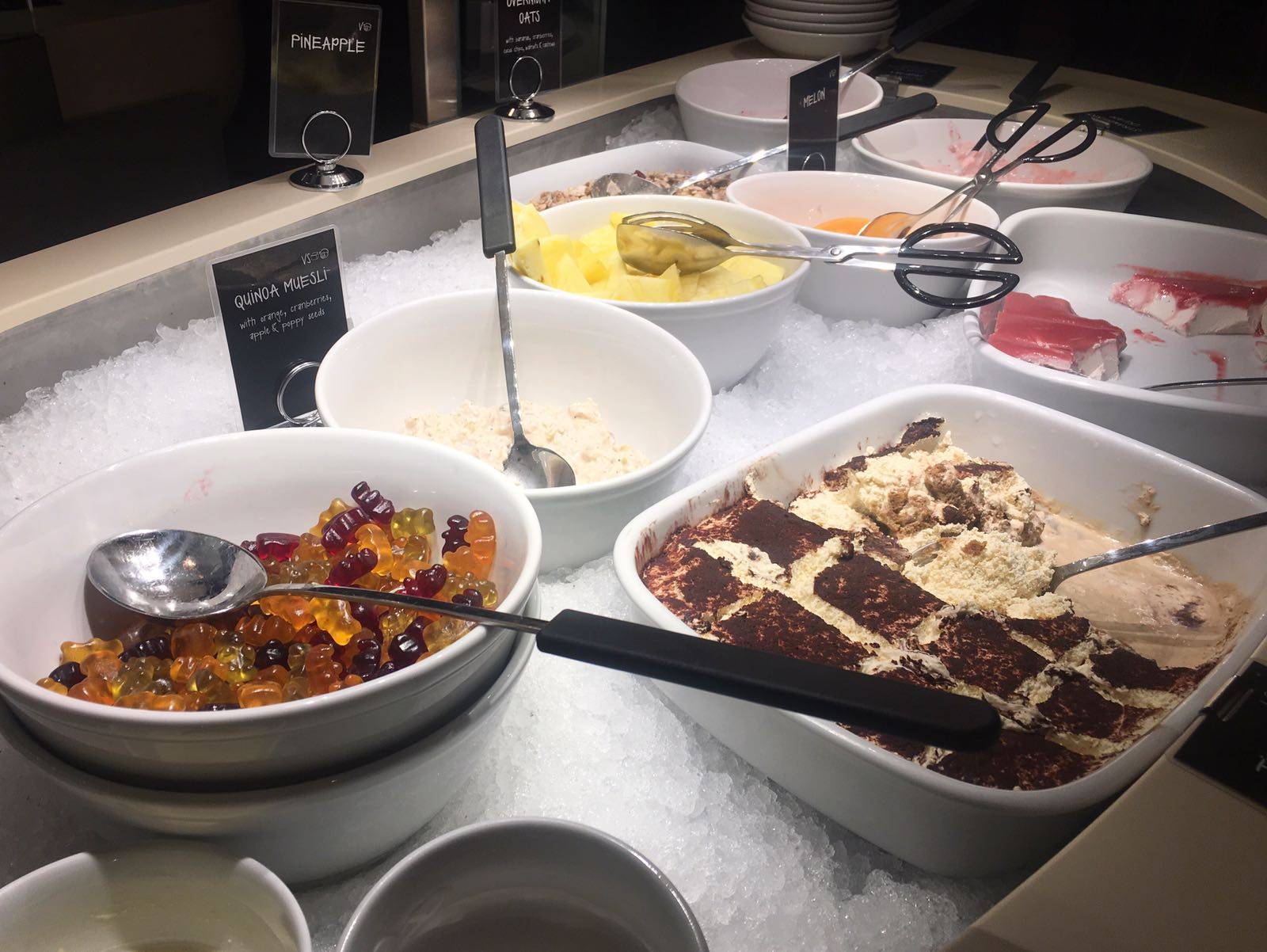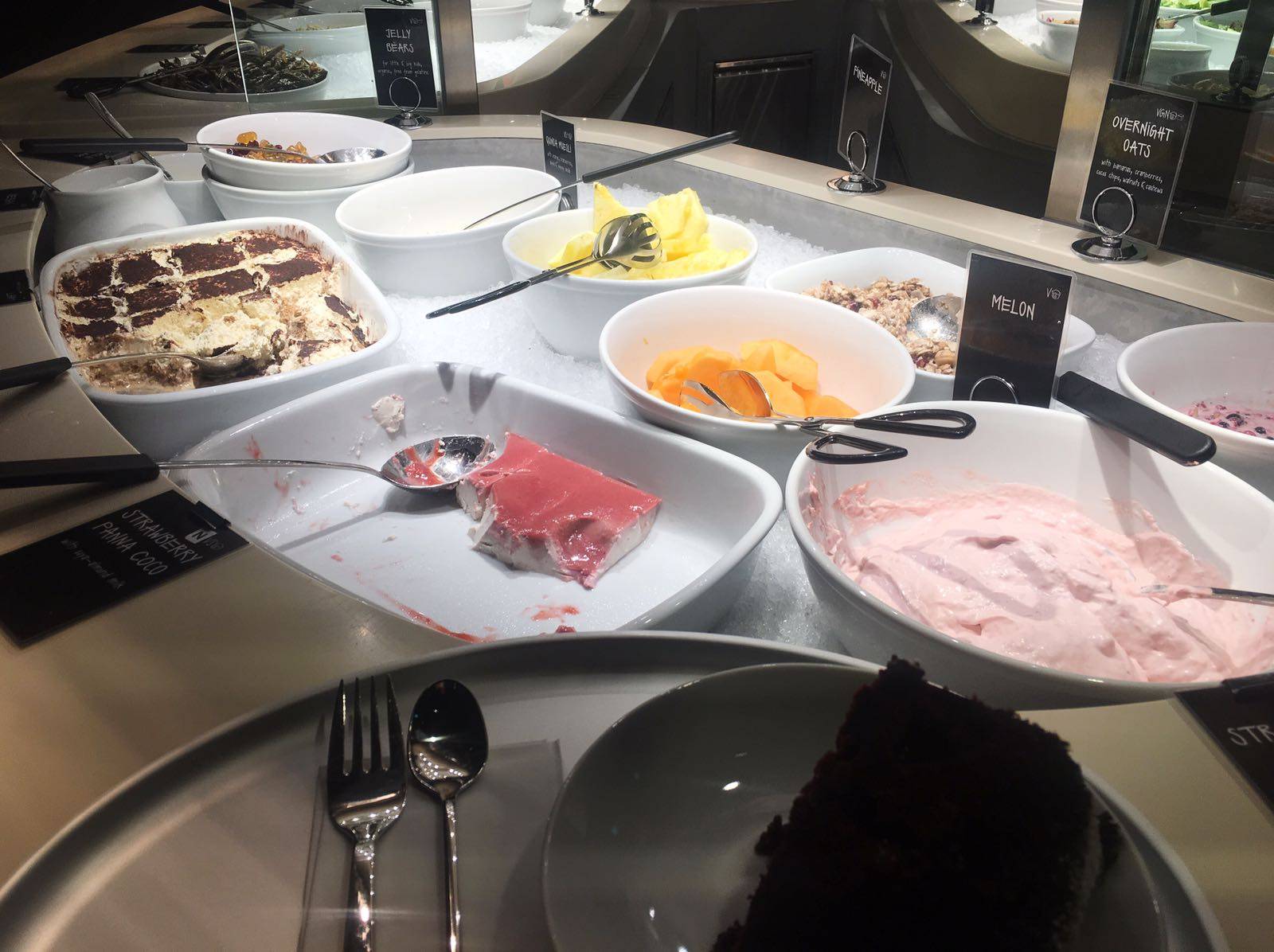 As you can imagine we were both pretty stuffed from out mountainous plates of food (which we actually ended up taking some of home in a takeaway box)! Buuut couldn't resist trying some of the sweet stuff too. I went for the Chocolate & Pear Cake with a drizzle of Vegan cream on top, and Chrystal had the pineapple upside down cake (which she said was completely AMAZING) and the sticky toffee pudding. They also had some jelly bears, so thought I would grab a couple of them to try too. Very juicy and not as chewy as the usual non-vegan versions – but I really liked them. I did need to get most of my cake in a takeaway box to finish later that weekend though!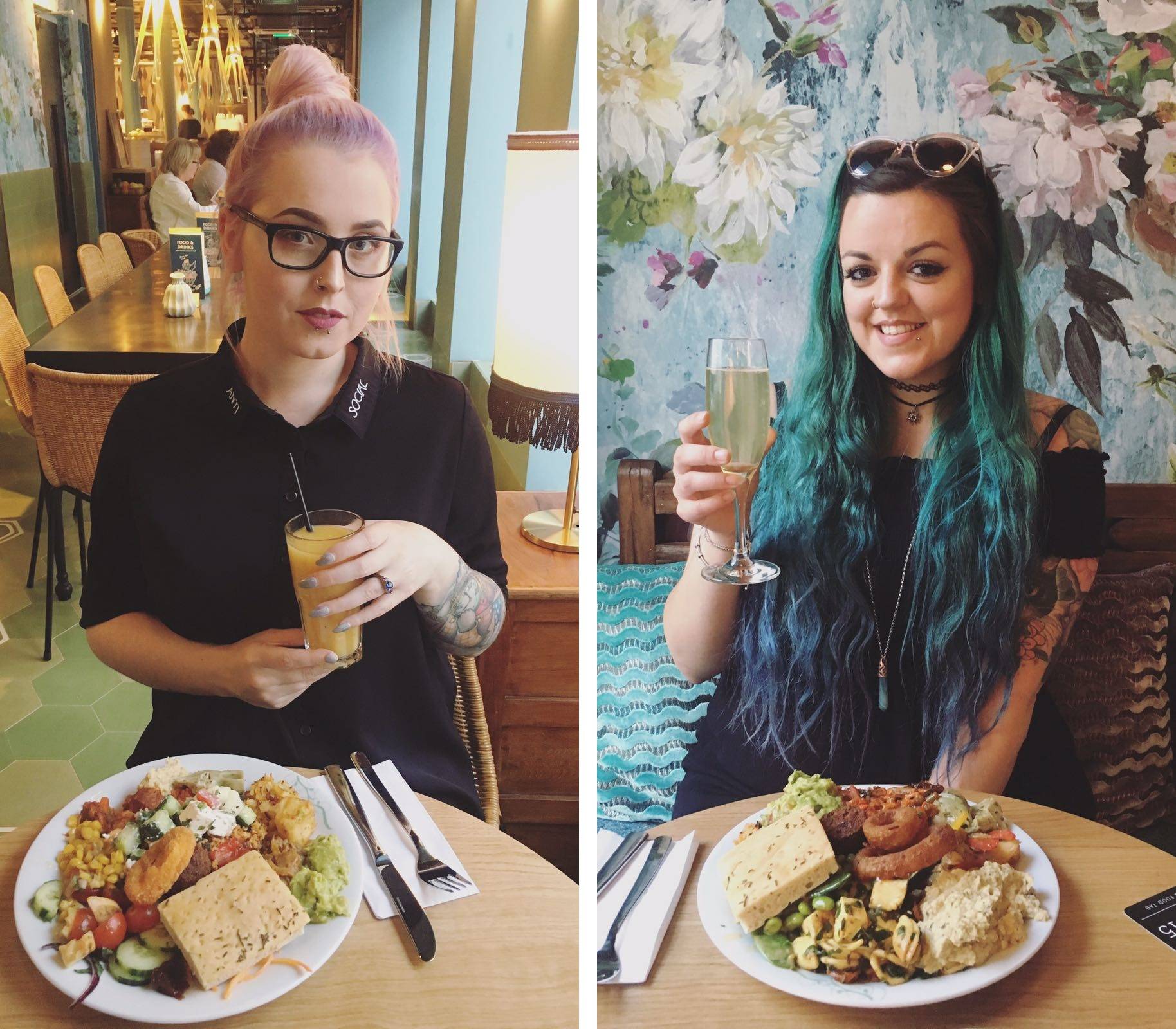 How was Tibits Bankside Overall?
The atmosphere of the whole place was relaxed and more spacious for me than the restaurant I visited before. It was relatively quiet when we went (having just opened) but the layout is much better suited for a busy restaurant. I wasn't able to see it on my visit but I also understand they're going to be opening a spacious extension at the back of the building, for customers to enjoy the lovely weather in a covered area. I've been told that it will be open from 9th August – I can't wait to visit again and see what it's like. If dinner's not your style, they are also open for breakfast, and lunch – with takeaway options too!
Overall it was such a really great evening with Chrystal in a beautiful new restaurant. The staff were so friendly and the food was delicious. Certainly worth going south of the river for, and I am sure I will be venturing back there again!
For more in depth info about how the restaurant concept came to be, my Tibits blog post from last year covers some it. You can also check out their website here.
Where is Tibits Bankside? 124 Southwark Street SE1 0SW (Google maps)
When is Tibits Bankside open? Mon-Weds: 7.30am-10pm / Thurs & Fri: 7.30am-11pm/ Sat: 10.30am -11pm / Sun (+Bank Holidays): 11.30am-10.30pm (NB. Food served until 30 min before closing)
This meal was provided free of charge by Tibits Bankside in exchange for a blog post. However my review is an honest reflection of my experience.